Hey darlings!
How's your weekend? ♥
Mine is spend a bit lazily, having a long phone call with a close friend, watching a bit TV, playing with my fiancé, just enjoying the day off, basically. I think tomorrow, Sunday, will be the same.
Don't we all just love weekends?
I know I do.
Okay, so, today, instead of an outfit post, I decided to continue on my style tips. On the same time, I'm going through my make-up bag, just to give you some inside on what I like to use.
(Although nobody maybe remembers, I told you before I'd talk about nails this time... Well, I switched these two, so... Sorry!)
Anyways, here we go:
What should I have in my make-up bag?
First of all, it all starts (to me, at least) from having a great bag (or container, boxes etc.) for storing your make-up. I know there are lots of you out there who need big storage systems for your make-up, but as I still have so little amount of products, I do fine with just a make-up bag.
Storaging: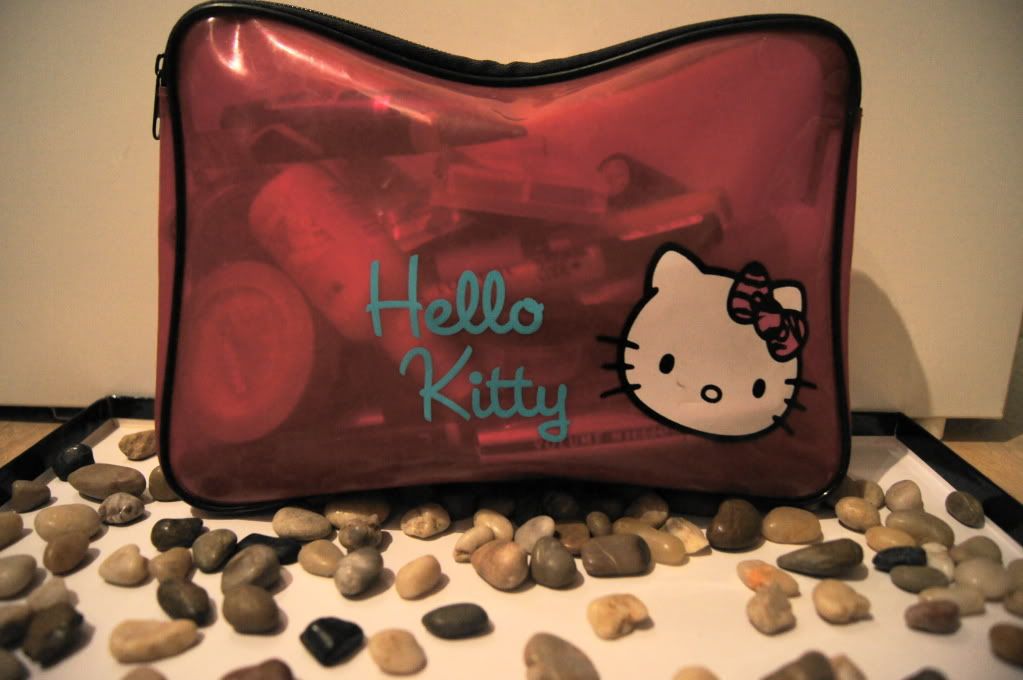 So, this is what my bag looks like. Unsurprisingly, it's a Hello Kitty one, and pink (bright pink, though the shade of the photo doesn't give the credit to it...). It's kinda huge, and luckily also transparent, so I can actually find what I need fast enough.
Basically, all you need from your make-up storage is to keep everything in quite neat order, without messing or breaking them. Also, it's important that they are in somewhat practical way put for everyday use.
Tools: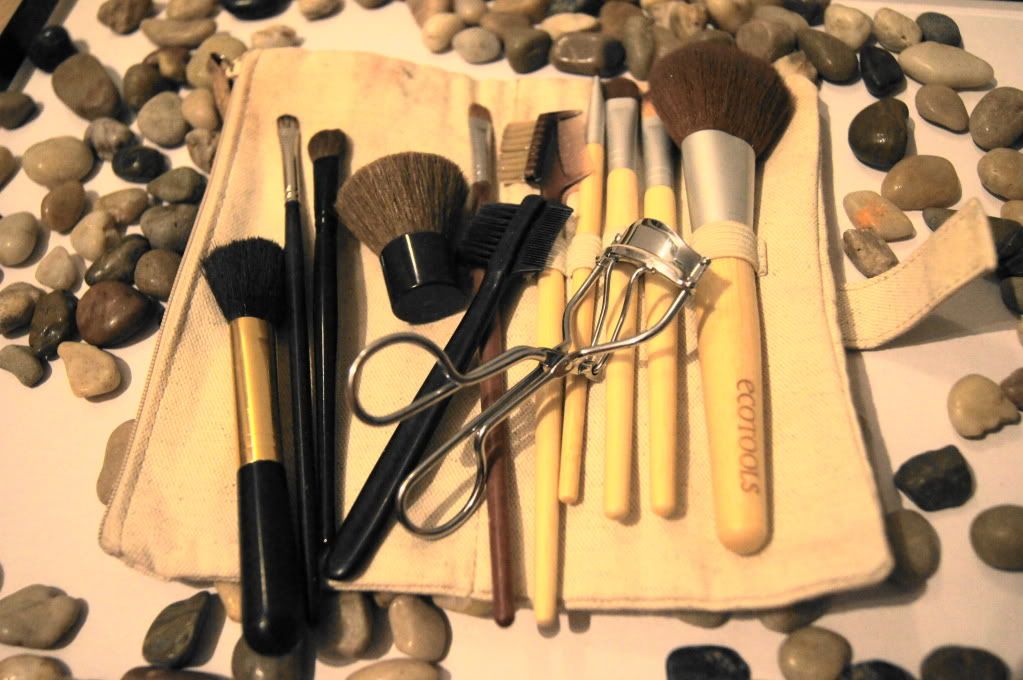 I believe in investing in some quality brushes. Although many products are easy enough to apply and blend with your fingers, I think some, on the other hand, need the brush. Yes, I mean mostly the eyeshadows, of course.
This, naturally, comes with the little task of learning the right techniques to use the brushes the best way possible. But of course that's not an issue for smart people like you, my dear readers. ;)
I personally fell in love with the EcoTools here, and I'm planning to buy more of them soon enough. They're made from eco-friendly materials, and they feel perfect when handling them. I also love the bag that came with them.
Do you have favourites among brushes?
Good Base Is the Key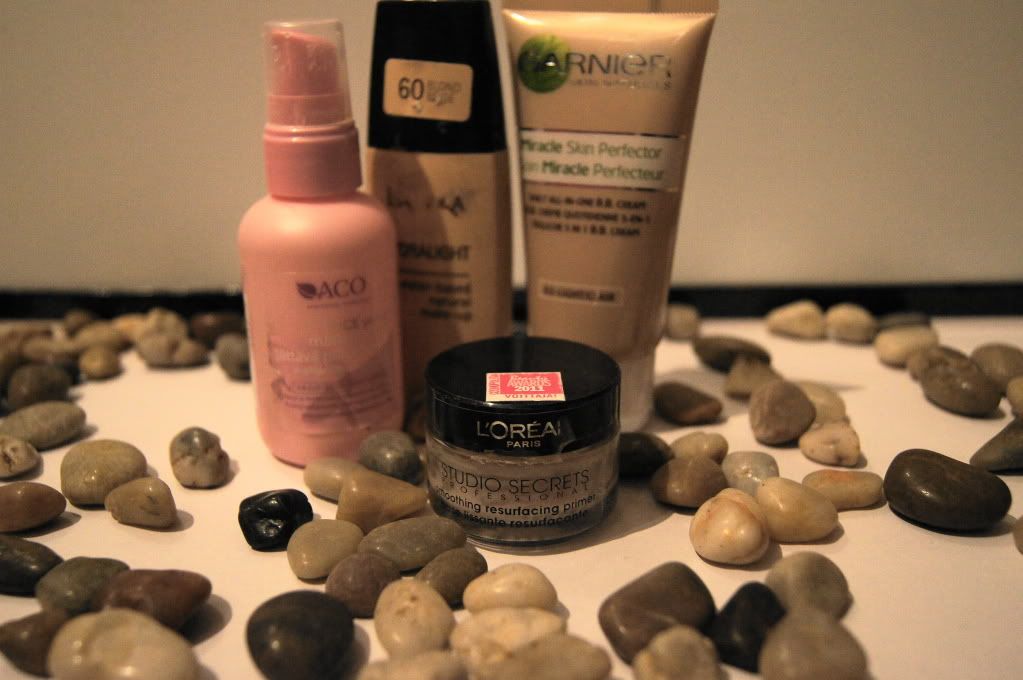 Yep, that's what I believe in. Like I've mentioned many times before, there's nothing more attractive on persons look than a healthy-looking skin. To achieve that, right products are in place. When reaching for a healthy face, few products (at least to me) are a must: day cream, moisturizing foundation, and a primer. Even if you had only 5 minutes in the morning to make yourself look good, these products will always save the day.
Note! Always choose products according to your age, skin type, and the shade of your skin. What works for your friend, might not work for you. If choosing feels hard, consult a stylist/professional/make-up sales person. They usually should have people who know their stuff, working at the make-up department.
Above are pictured the base make-up products I use the most. The Granier B.B. Cream is a recent find through another Finnish blogger, Anniina, whose blog you can visit
here
. (Note: the blog is written in Finnish.) I have tried the product for a couple of days now, and I love it. ♥
Cover up!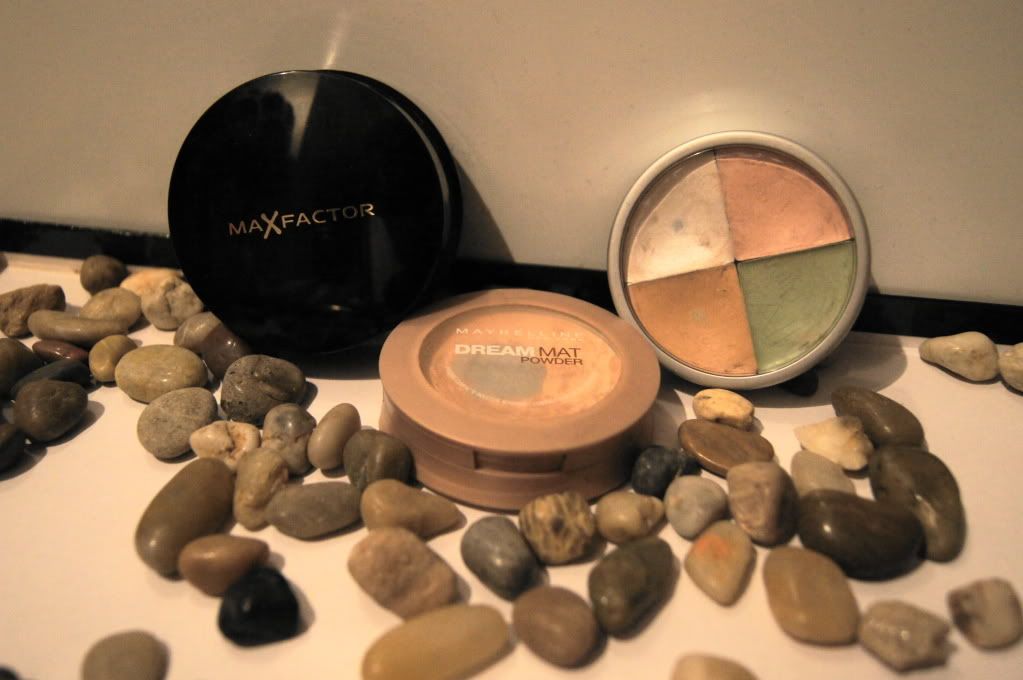 Of course, a good base needs the company of finishing touches. That means using some fixing products and powder. I firmly believe on the Wet'n'Wild palette of four fix shades, that can handle dark circles, redness, spots, whatever... And it also includes a highlighter tone, that can be applied to lighten up your face. Perfect, right?
And, even though I usually don't use powder (as I think it makes my skin look bad), I invested in a Max Factor loose powder to try to learn to use it again. I also have a compact one, but I kinda think that isn't so great one - mostly because of the applier it had along with it. But overall, I think every girl needs some kind of powder in her bag, just in case of emergency. ;)
You Make Me Blush ♥
Blush, blush, blush... Okay, sorry, I just love saying the word!
But seriously, I do love blushes - and bronzing powders, for that matter - as they are the number one way of creating healthy glow to even the most tired of the faces. Believe me, I know, it makes even me glow after 4 hours of sleep, 18 hours of school/work combo, and that routine going on for a week. Hence, I know what I'm talking about.
Blushes are also such a girly make-up, they come in cutely shaped packages, they are pink and pretty. Do I really need to tell more reasons?
Thought so.
Blush and the bronzer make a great (summer) combo, when you but bronzer under your cheekbone - to create some shape - and then adding blush on top of the cheekbone - to make your face glow. Of course, if you have darker skin, you can use bronzer for the glow, too. I prefer very light and young shades on my blushes, but if you are brave and creative, nothing stops you from using brighter ones, too. :)
Little Things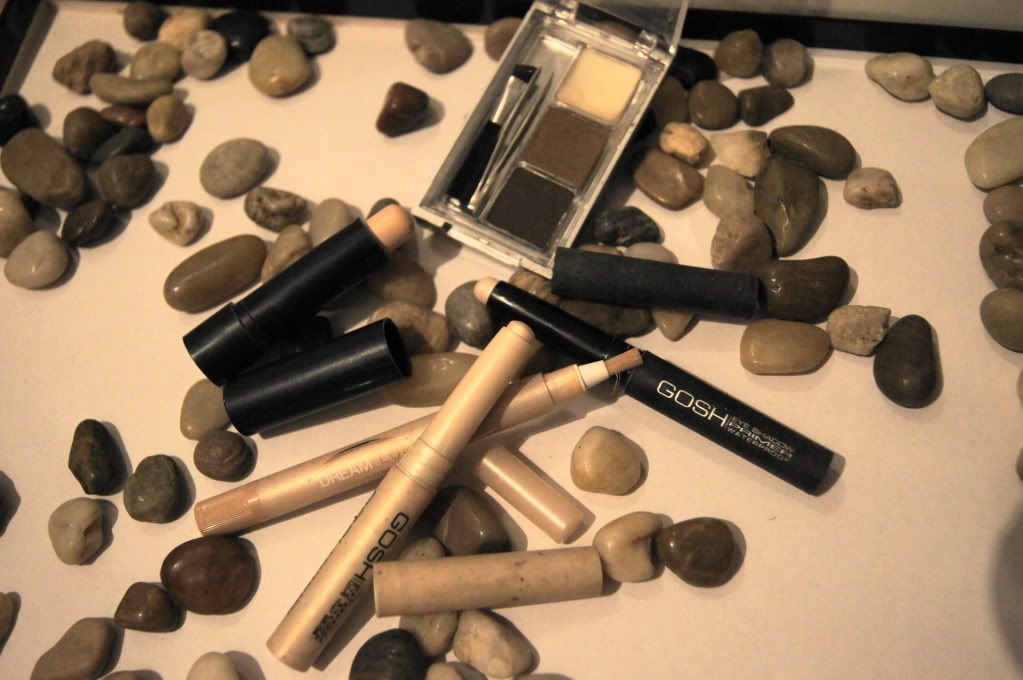 These are sort of my misfit items, that I couldn't place in other categories. There's a coverstick, eyeshadow bases, highlighter pen and an eyebrow kit. All these products I more or less use daily.
The number one out of these is definitely the eyebrow kit, as I think neat eyebrows really define the look on your face. Although I have pretty light features, I like to emphasize my brows to make the eyes come up more. Usually, this works perfectly. I used to use brown eyeshadow before, but now I use the kit only. Loving it! ♥
The other ones are not in regular use, but the eyeshadow bases (by GOSH) are great when I have to create an intensive eye make-up that really stays in place. I recommend them.
That is, unless someone can recommend a better one?
Eye to Eye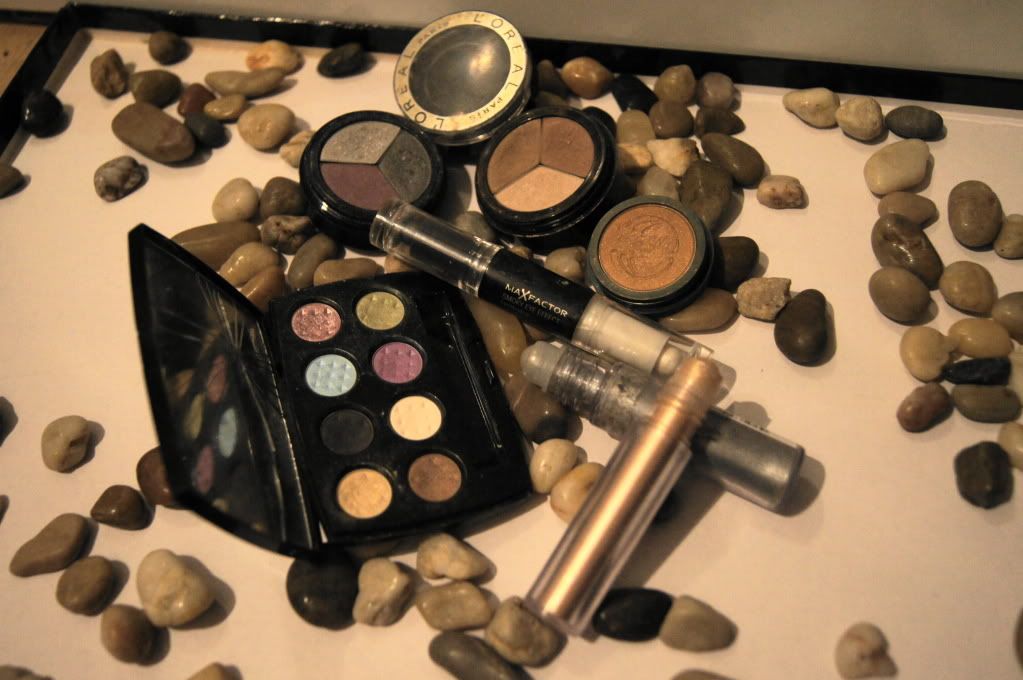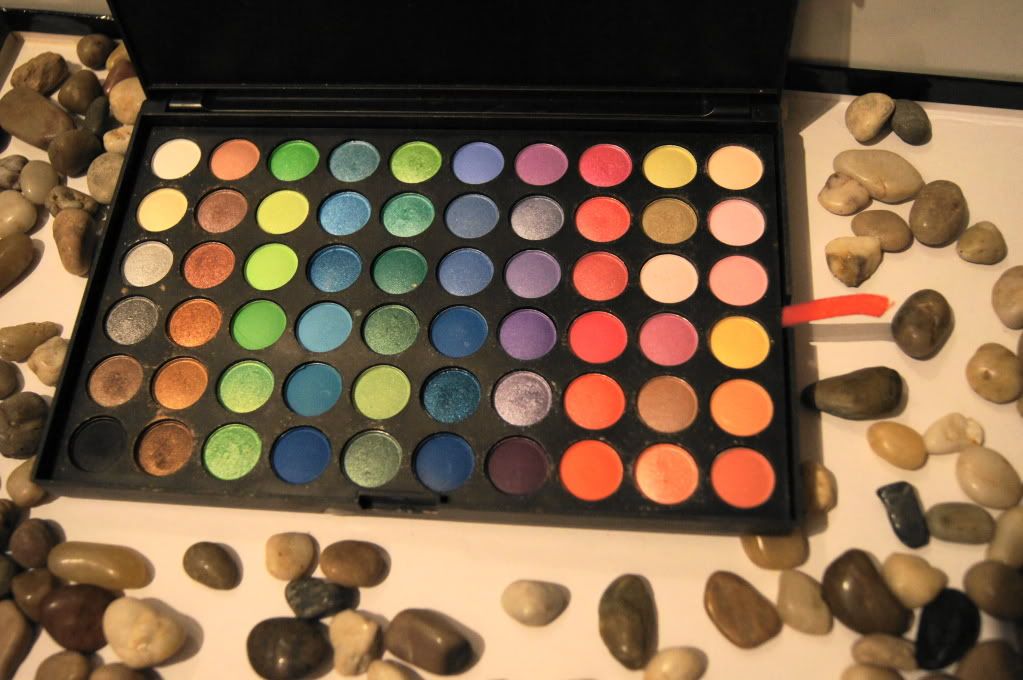 Eyeshadows, a bit of a weak spot for me (after nail polishes, that is). As you can see, there's definitely plenty of colours to choose from, but that's how I think it should be. There needs to be choices for any outfit and occasion.
Unless you can do an amazing nude eyes, which I totally can't :D
Eyeshadows come in a large variety of different formulas, and they can basically be anything from dusts/powders to liquid ones, and it depends on the person which is the best. I love the traditional palettes the best, but am a bit intrigued by the eyedusts, too. My skin hates the creamy eyeshadows and basically throws them away in a matter of minutes, so I kinda dislike them, but I believe if they stay on, they look great as well.
If I had to raise a brand above others, I would have to say either Lancome or Make Up Store. However, the giant palette there (with two layers) is from Nelly.com, and it was very cheap (30 euros only) so I gave it a try, and funny enough, I love it. It stays in place well, has plenty of pigment, and is super easy to blend. So, for now, I'm not buying any other eyeshadows.
But you can recommend anything!
Flashy Lashes
Who doesn't love thick, long, curvy lashes?
The difference mascaras make in any girl's face is remarkable. Mascara makes your beautiful lashes darker and longer, which will make your eyes pop. And as your eyes are the mirror of your soul, you would want them to be beautiful, right? Just to make your inner beauty truly shine through.
I don't know about you guys, but personally I love to try new mascaras, and I always have 3-4 different ones in use. I believe in having a few that create different effects, but to be honest, I could do with just my Max Factors. ;)
When buying a mascara, it's good to list the features you want from it, and to remember that the brushes there are drastically different from one brand to another. My list for mascaras in my bag is: One that makes my lashes thicker, One that makes them longer, One that does both, and One waterproof.
Okay. I need to be honest here, too. On a typical day, I just grab the first mascara I can reach, not thinking which one it is. But that's why there are only great mascaras in there.
Where is Your Line?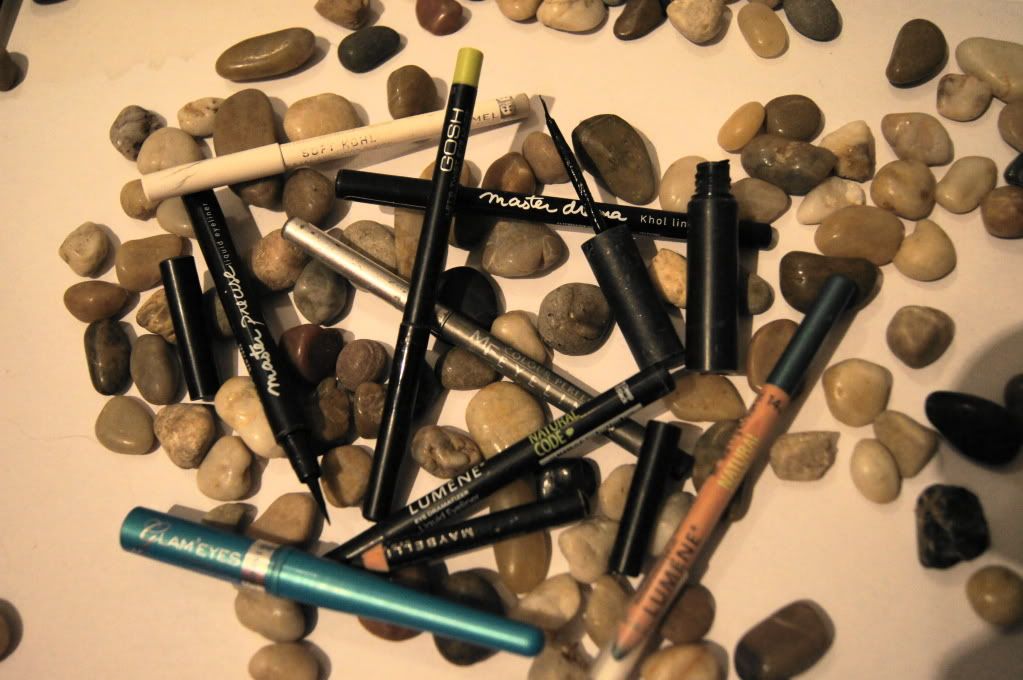 After the mascaras, eyeliners are the greatest way to define your eyes' shape, size, and even colour. You can change your look a lot just by switching your eyeliner from black to turqoise, white, or anything you can imagine.
Eyeliners also come in a variety of different formulas, and I believe in having at least a kohl liner/kajal and a liquid one, both in black or dark brown, depending on the effect you like. The pencil liners are great for smokey eyes, and light make-up, whereas liquid ones are best for the dramatic looks, and cat eyes. Of course both can be used for any look with a proper technique and patience (plus steady hands), but as I'm not an expert, I can't tell more about that.
But what I can say is that I think any girl looks beautiful with a little winged eye make-up. ;)
Kissable Lips
Although I go usually with little to no make-up on my lips, occasionally it's fun to go with the bright reds. I must admit, I don't own any bright red lipstick. Yet. I was consulting a professional make-up artist on Friday, and she told me a couple of shades and tricks, so maybe I'll be brave enough and purchase one this Spring. ;)
But to get back to the subject, I think lipsticks are a great way of making the look more feminine, and when you can't bother to do much with your eyes, you can always just grab a bright red lipstick to make your lips pop instead. If you are insecure with lipsticks, like me, there are tons of great glosses out there, too. And you can combine them with a lip tint to make it more colourful.
(Here I just must thank Sherin for the amazing gift, Max Factor lip tint! ♥ Girl, how on Earth did you know I had been eyeing that exact product on that exact shade for weeks? Thank you so, so much! I love it. ;))
Also, a look I really like on lips is the nude lipstick. I'm in a process on healing my lips from the unbearable dryness so I can start wearing my nude colour again. Any tips on there? I'd be thankful.
Final words
Okay, so, this closes the part 7 of the personal style series, and I hope some of you have found inspiration, tips, new thoughts, or anything out from this post.
Now, I toss the ball to you, lovelies.
What are your tips & tricks on make-up?
What are your trusted products/brands?
Also, don't forget
the little giveaway
going on ;) I'll be back on Monday, with some more student style of mine :)
Have a great weekend (what's left of it, anyway)! ♥
xoxo
Johanna