Hey lovelies,
Remember these posts?
I don't blame you if you don't. ;) It's been a long time since the previous one, but now I finally found the time and inspiration to write a new one - this time, about nails.
I know many of you love my manicures a lot, so I thought I could give a little inside of what goes on with my nail routines and stuff. I'm going to show here some of my favorite manicures from the past year, introduce my nail polish/nail art collection a bit, and talk generally about nails. So if you love nail art - and related stuff - just sit back enjoy the ride! ;)
Basic Nail Care
Like with any part of your body, you can affect on your nails' health a lot through your diet. To grow strong and healthy, nails need enough calcium and vitamins. If your eating is in balance, chances are you get everything you need from your normal food. But if your nails tend to chip, break or generally be in bad shape, find out if there's anything in your diet you could change in order to make your nails more healthy. For example, you can try adding more milk products to your diet. (Or calcium in some other form, if you're allergic.)
Letting your nails "breath" between manicures is also an important thing, though I can admit myself I often can't handle my nails without any nail polish... So I do skip that routine. I try to have a day every week, when I go without, but usually it doesn't work too well. But what I instead do, is that I make sure my nails get moisturized. It might sound funny to you, but the fact is that nails need some oils to stay healthy and strong. So dipping your nails in olive oil every now and then - or using a hand lotion - is very important for the health of your nails.
Most of us need to shorten our nails every now and then, right? There's work, crafting, well, even typing, and other things in life that may stop us from having very long nails. Others prefer their nails shorter because they look better that way. But the thing is, you should try and be gentle when shortening your nails. For example, I never cut my finger nails, but instead, I use a file. When filing your nails, it's recommended that you file your nails from both sides to middle - at least that's what I've heard - but I don't know if that plays a significant role.
Every once in a while, you can also buffer your nails, which may increase the natural shine of the nails, and smooth out the surface of the nail a bit.
Preparing your nails for a manicure
When starting a manicure, you should first remove everything that's left of your previous manicure. Use the most gentle nail polish remover you can find, and always remember to rinse your nails after, as the nail polish remover tends to dry out the natural oils of the nail, making it fragile. If you have the time, this is the perfect time to pamper the nails with a 5 min olive oil bath - and once again, remember to rinse it away. Olive oil softens your cuticles, so if there's any need to push them back gently, do it right after the olive oil bath.
File your nails into the desired shape and length, pick your colors, and start off the manicure.
Long-lasting manicures
If you want a manicure that lasts up to a week, you need to put a little effort to it. First off, never underestimate the power of a proper base coat. Buy one that feels right for you, and always add it under the manicure. It helps the manicure last longer, and it protects the nails from getting yellow because of the nail polishes.
I would love to say it doesn't matter what nail polish to use to get the salon results - but the truth is that the price tells a little bit about the quality of the product. I've bought both super affordable and quite expensive ones, and the cheapest ones I've tried haven't really been worth buying... But one of my favorite brands is Mavala, a Swiss brand that makes affordable little bottles in fabulous colors. And when I say affordable, I mean 5 euros per bottle. And that's not much. Another great brand is IsaDora, a Swedish company that makes all kinds of makeup products - including nail polishes. Their nail polishes have somewhat perfect brushes, they're quite wide so it's easier to have an even coat with one or two strokes.
Then there are the classics like OPI, Essie, China Glaze... I think there's so much stuff about them in other blogs, that I don't have to talk a lot about them. (Also, they're bit over my budget, so I don't have enough experience to really tell you how I like them.)
So after your base coat, add 1-3 coats of the nail polish you've chosen, and let each coat dry properly before applying the next one. (This prevents bubbles!) Try to do your manicure away from fans, air conditioning and wind, as they may create bubbles to your nail polish coats.
Decorate the nails the way you want, and remember to apply a top coat. Top coat protects your nail design, makes your nails either shine, shimmer or stay matte - depending on you top coat, of course. Personally, I just tried out this "Good To Go" top coat from Essie, and I must say it's one of the most magnificent top coats I've ever tried out. It dries out in seconds, it's smooth to apply, and it makes the nails shine beautifully.
My nail polishes
The ones who have been reading my blog since the start, might have an idea of my nail polish collection, but as I have never really shown them all, I thought now would be a great time for that. So here are the nail polishes I have in my boxes. ;)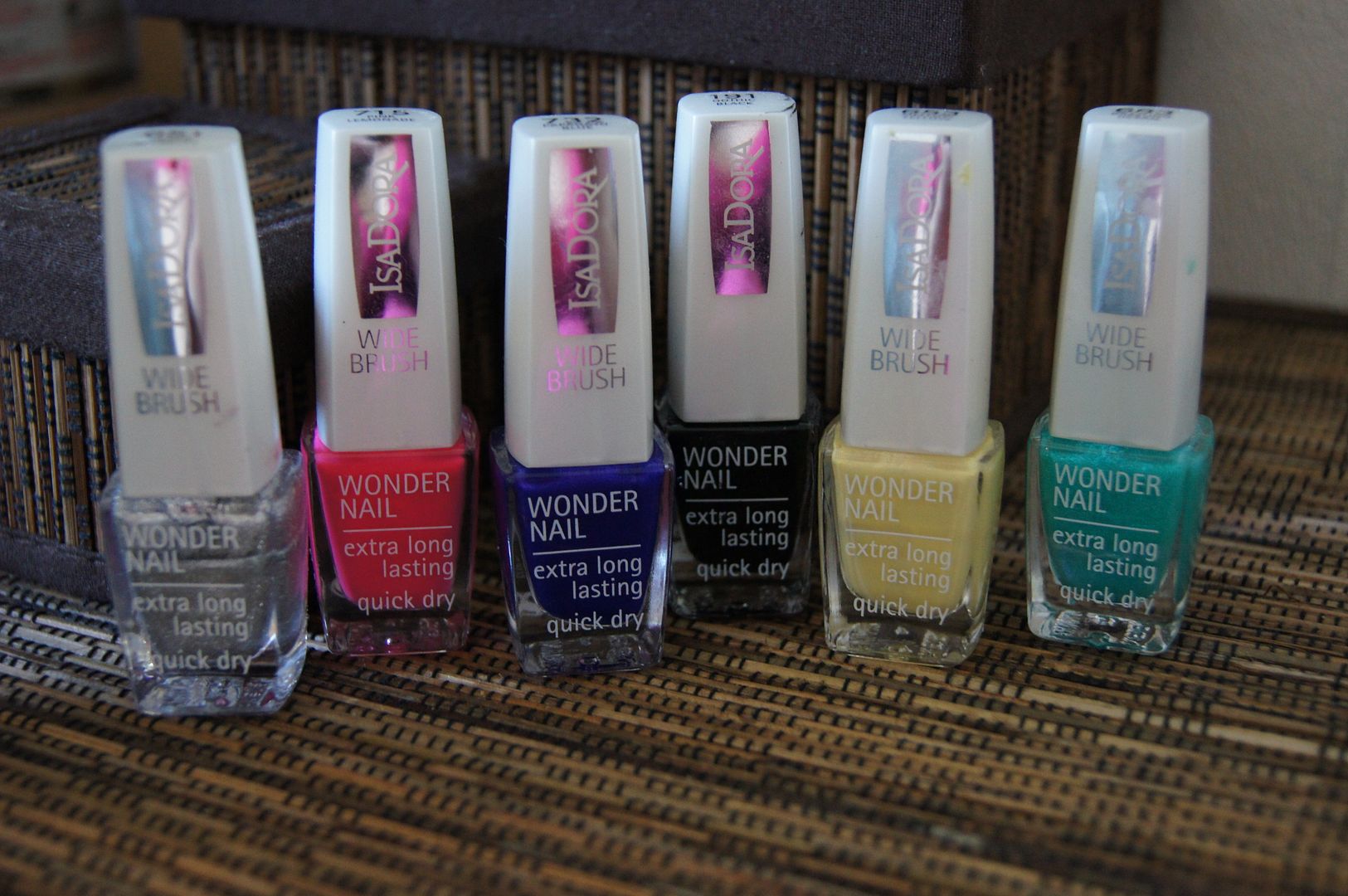 All my basic IsaDora polishes. I don't like to play favorites, but these certainly are my go-to nail polishes. I just love the quality and the wide brush - not to mention the fabulous colors!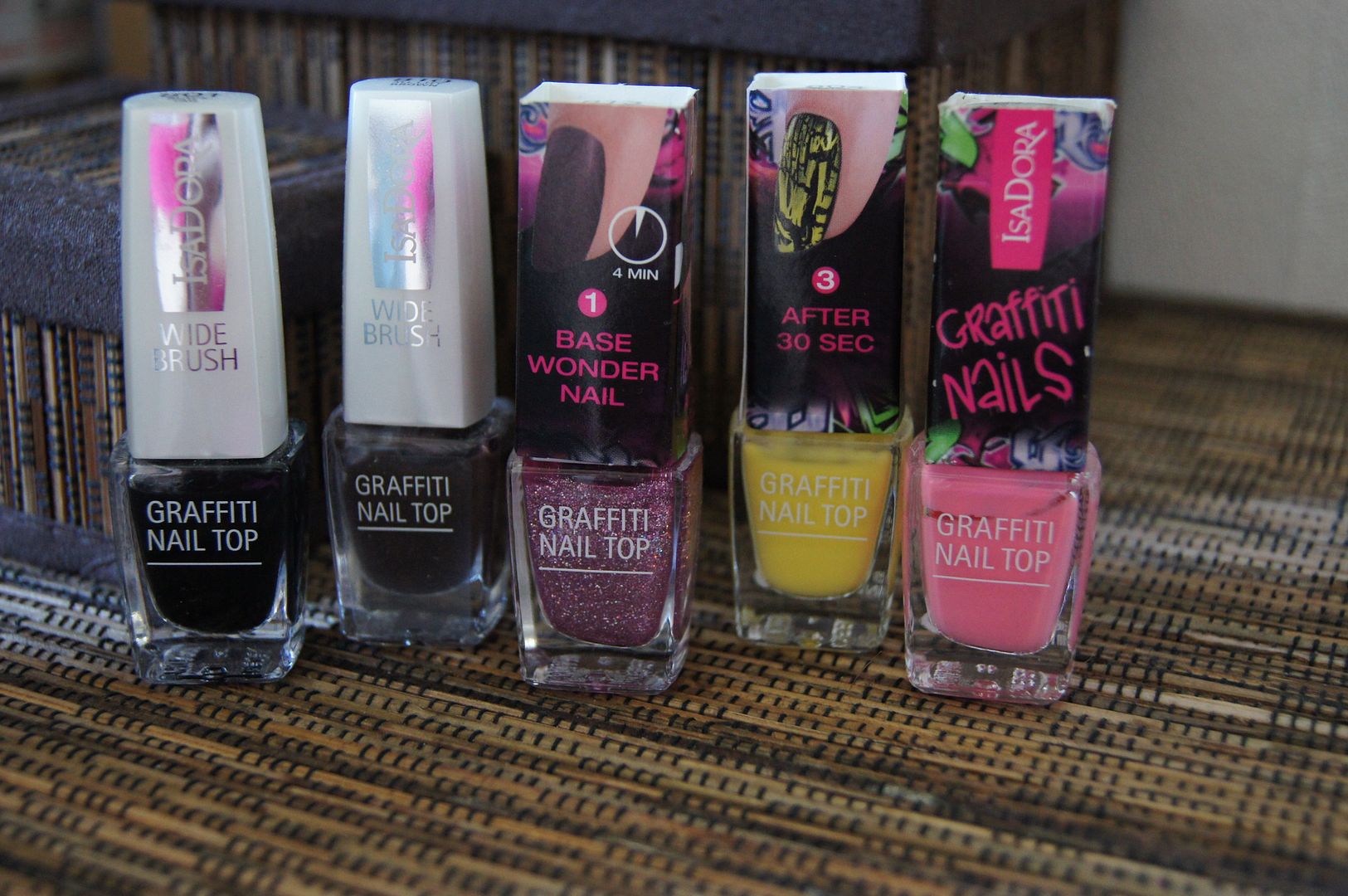 I know many of you think graffiti nails are quite faux pas already, but I'm still kinda fond of them. Hence, I have these five for creating the effect.
After IsaDora, my certain go-to product is Mavala. As the picture shows, I have quite many of them already, and I keep finding wonderful shades in their range all the time.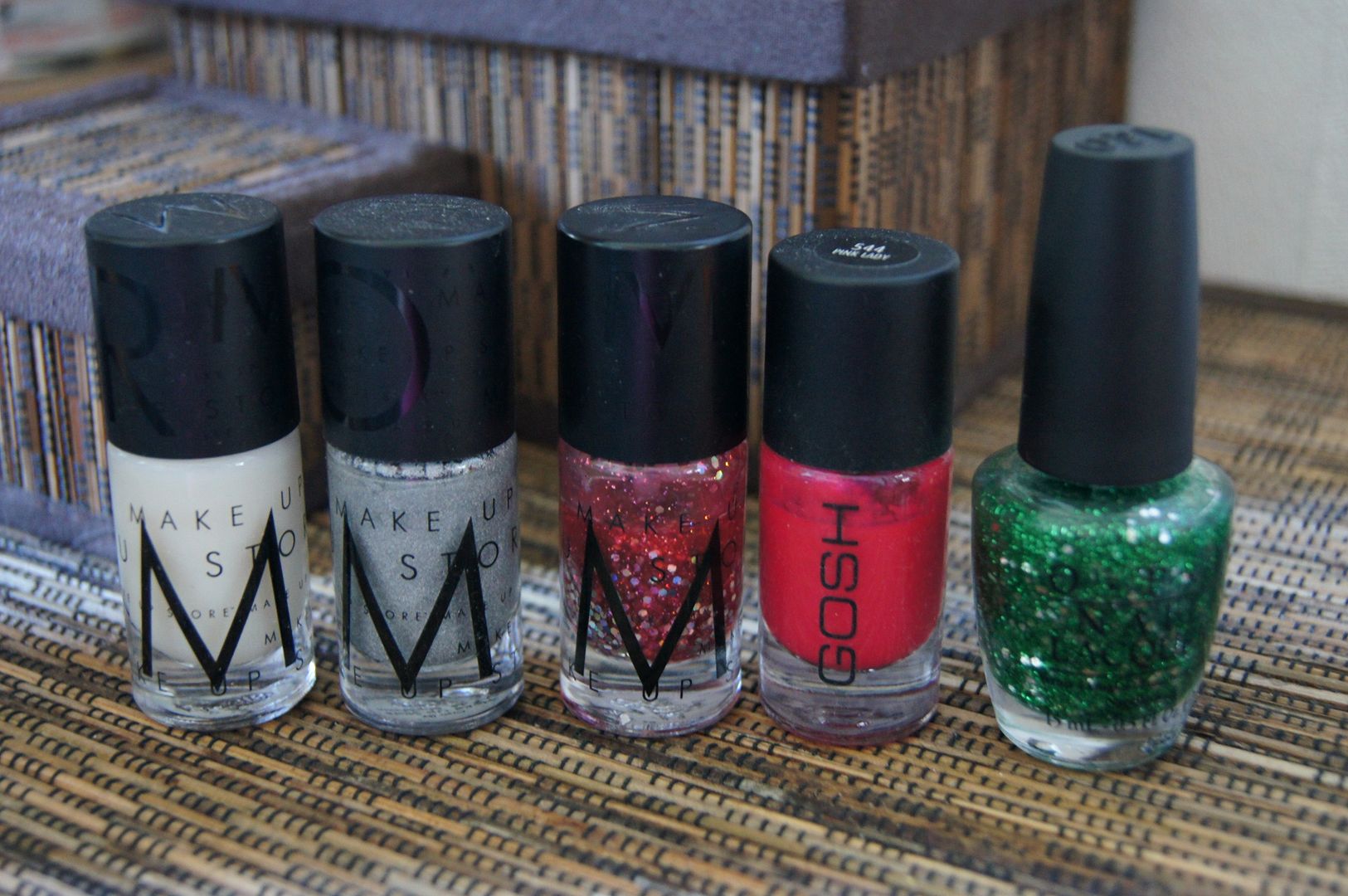 Make Up Store, Gosh, and OPI. Great brands, especially OPI and Make Up Store, but unfortunately a bit expensive for an addict like me... :D That's why there's so little of them. So far.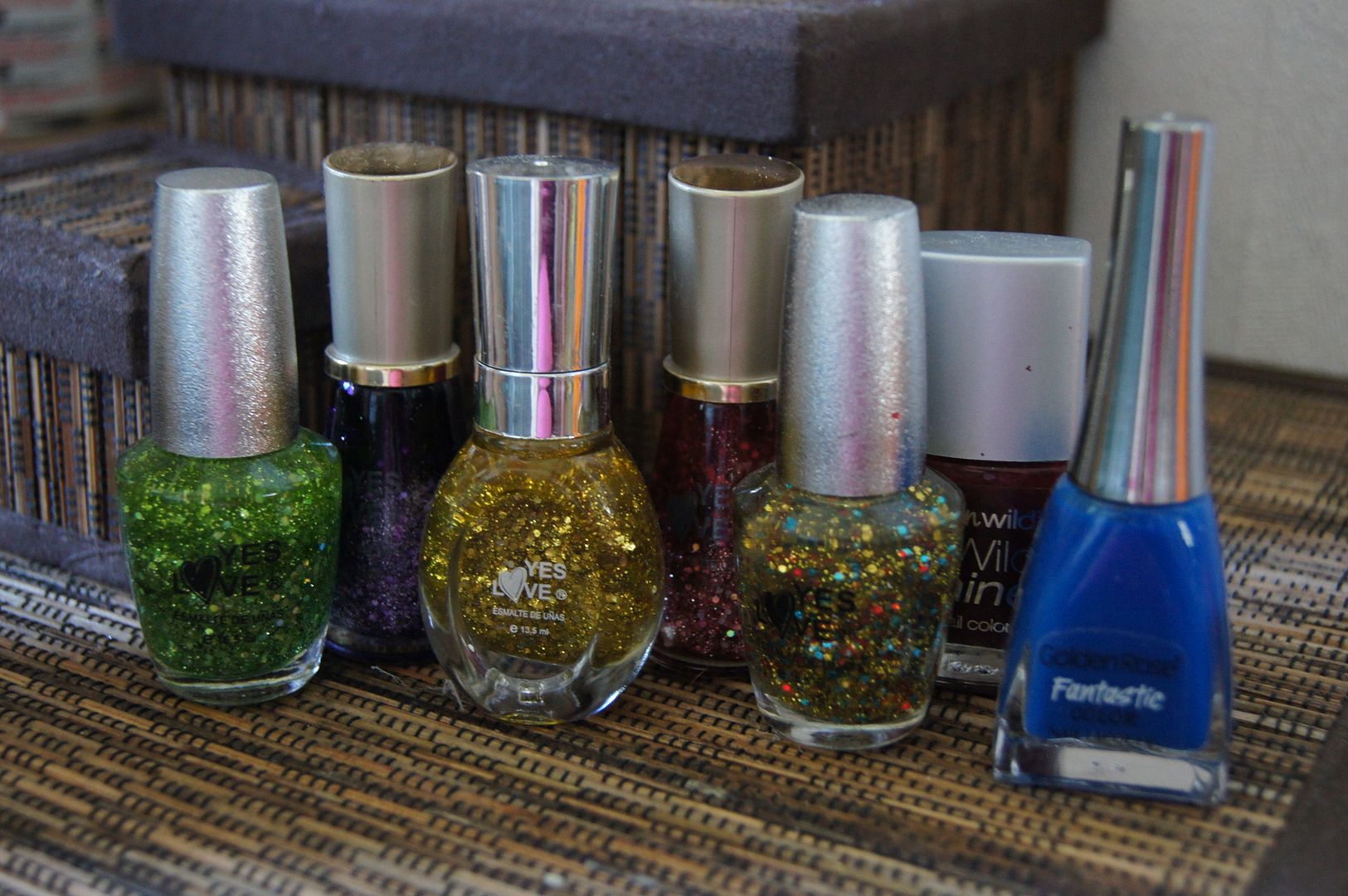 Cheap brands. Cute colors and polishes that look great, but won't dry in any amount of time. (I'll be trying them later with the new Essie top coat, and I hope there'll be a breakthrough with these.)
H&M and Depend. Both very affordable, but yet quite nicely working products. With base and top coats, these last as well as IsaDora or Mavala.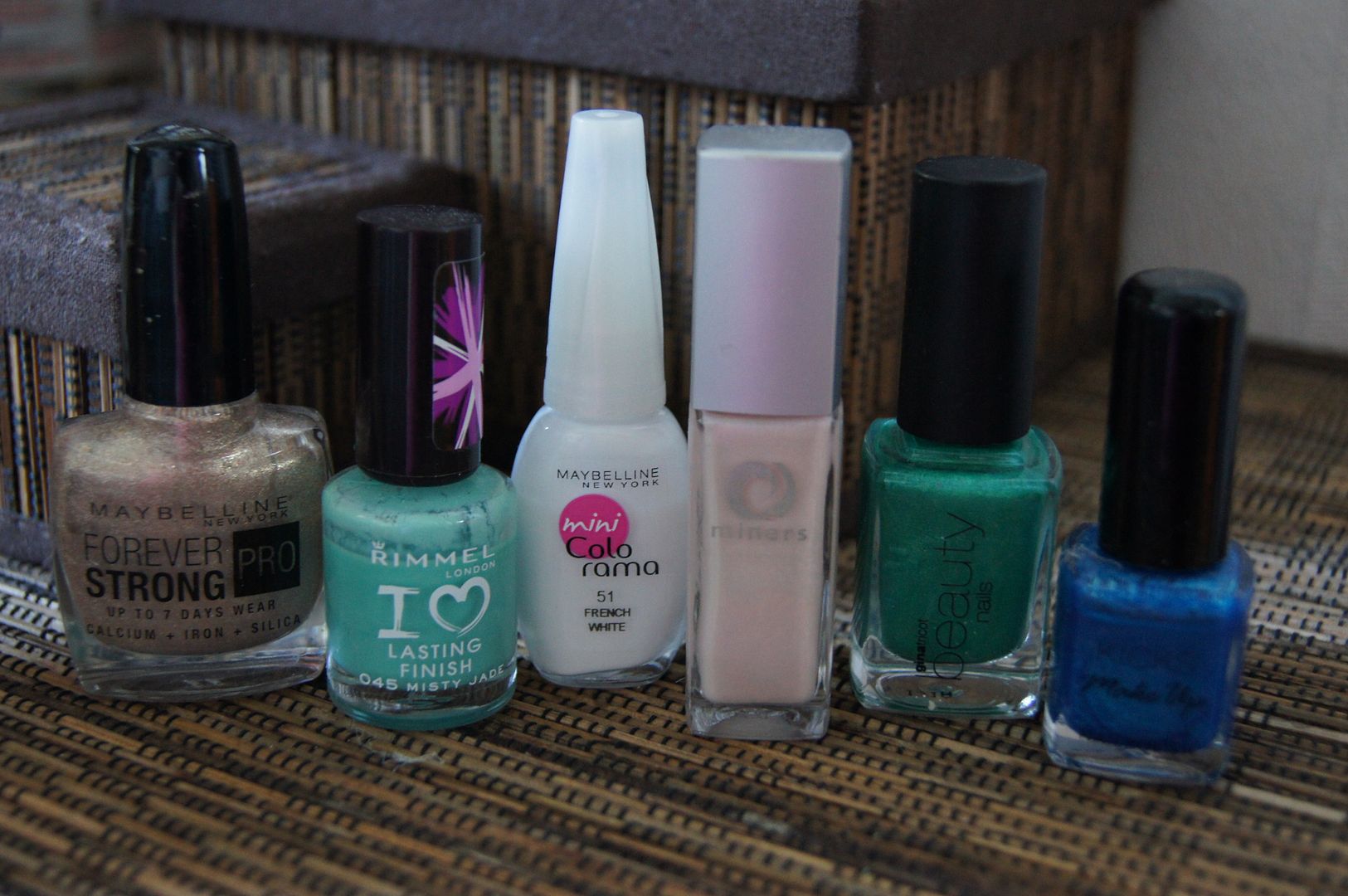 Random collection of different nail polishes, all of which work just perfectly. I admit I've grown kinda tired to the gold polish there, but I think I'll just update it with some glitter and it'll be perfect again. ;)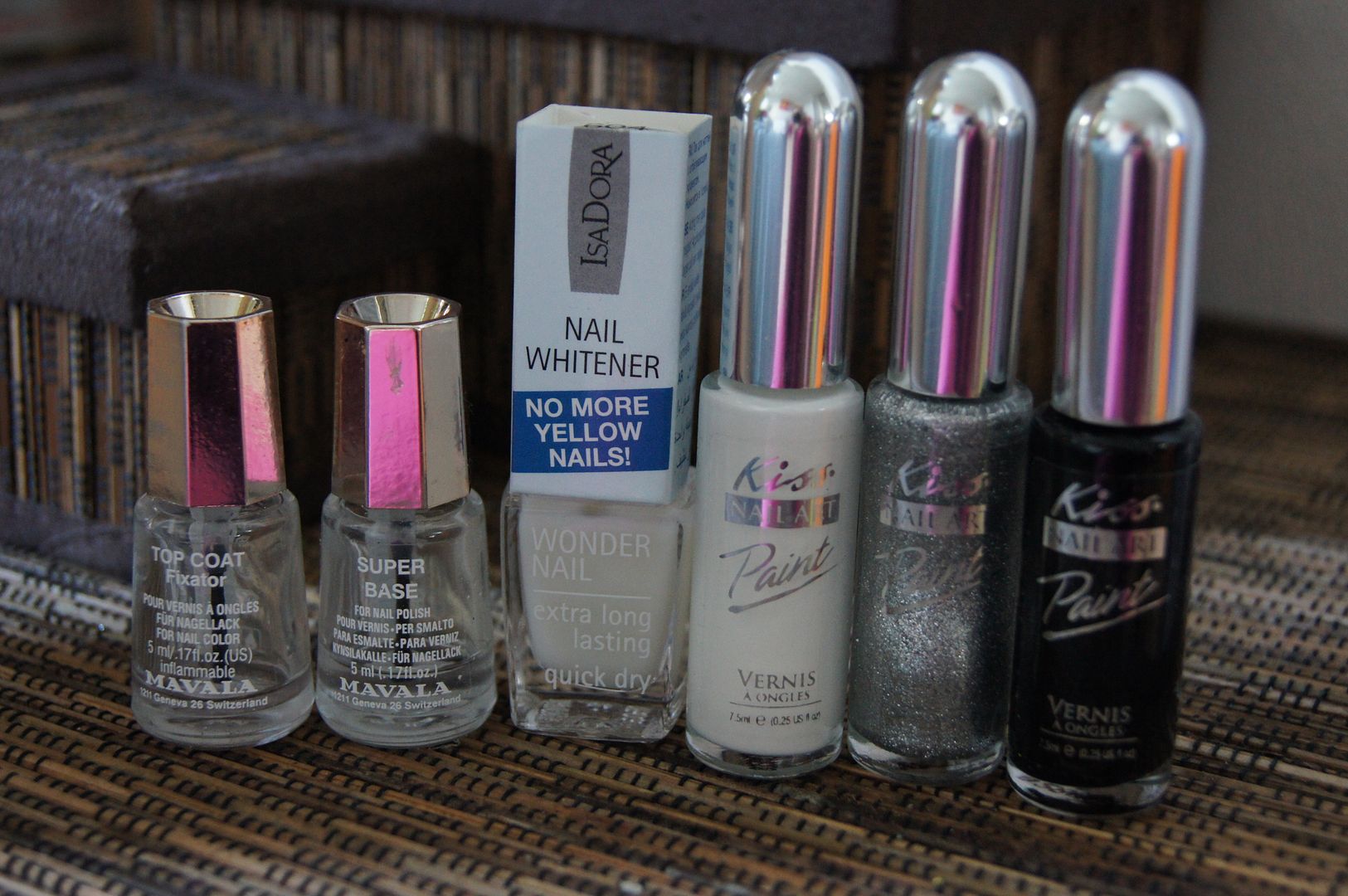 Special nail polishes. Some essentials that I felt deserve their own picture.
Now that I've shown my nail polishes, I can actually update you in regular posts if and when I find ones I totally love.
Now, what are your go-to brands when it comes to nail polishes?
Nail art
There are endless ways to create nail art at home, you can paint with polishes, use nail art pens, dotting tools, to water marbling, add anything from little chains to feathers... Nowadays, it's totally up to you and your imagination. I prefer stamping, as it is easy, quite fast, and the outcome very neat. Most of you probably know I live quite a hectic life at times, so I can't really use hours for creating nail art, so when I heard about Konad, I had to try it out.
And now we're inseparable.
My stamping kit looks like this at the moment: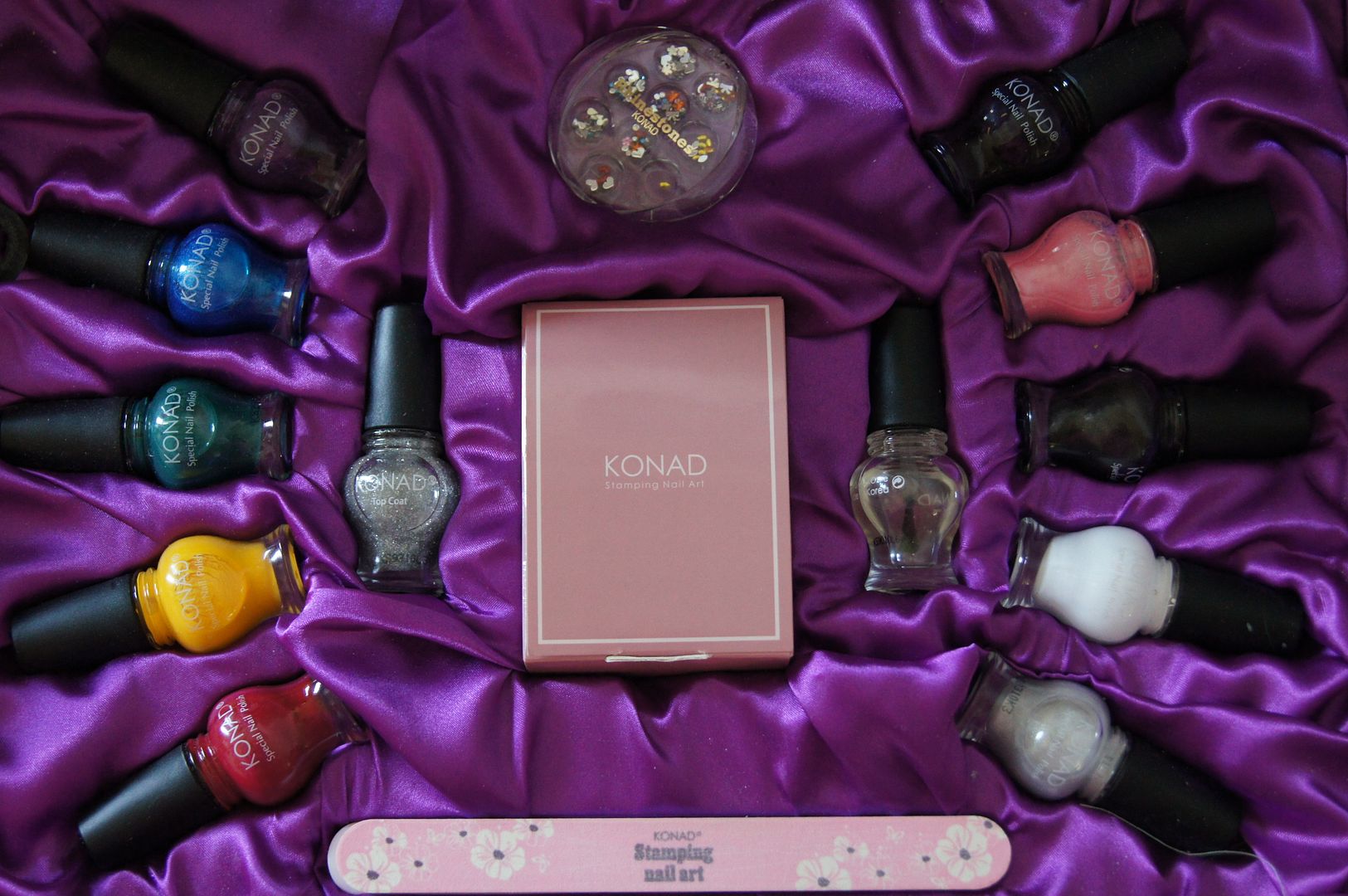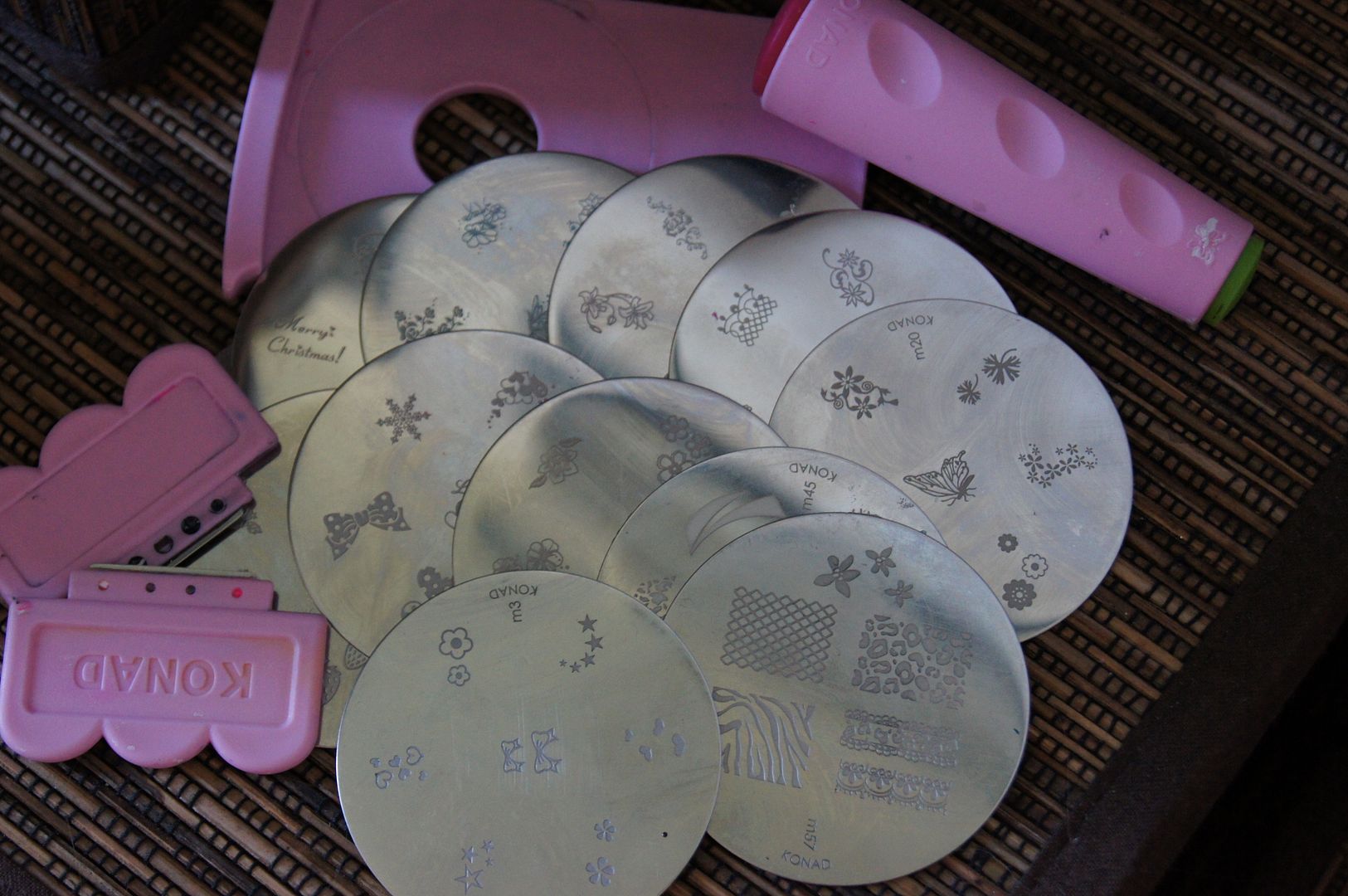 There's a lot of patterns and images to choose from, but I'm already looking for new plates.... Oops. (But seriously, there are these cool XL plates from different companies that I've been eyeing for some time now... Maybe later this year...;)) This kit was a Christmas present from my fiance, and I totally love him for supporting my silly little hobby like that. I have the best man ever, really.
I've also bought a lot of glitter, rhinestones and such things to add to manicures, but because they aren't quite practical, I don't use them often. I try to do a couple of more creative ones for this Summer, though.

What do you use to create your own nail art?
This shouldn't come as a surprise for you, but as you google "nails", "manicure" or "nail art", you get loads of pictures of fabulous (and crazy, even) manicures around the world. I might handle the simple nail art, but I really wanted to share some more complicated and totally inspired designs with you. I don't own the following pictures, and even though only some of them have watermarks, I assure you they're all someone else's property. (And sorry for not having their links here, it was so much easier without them.)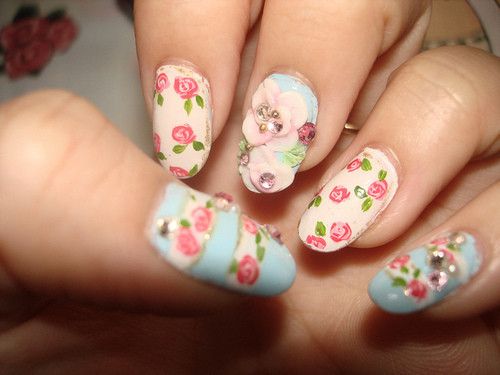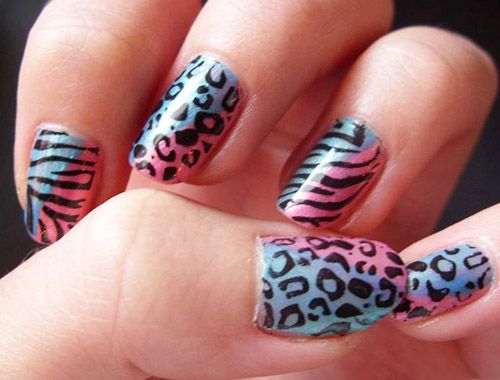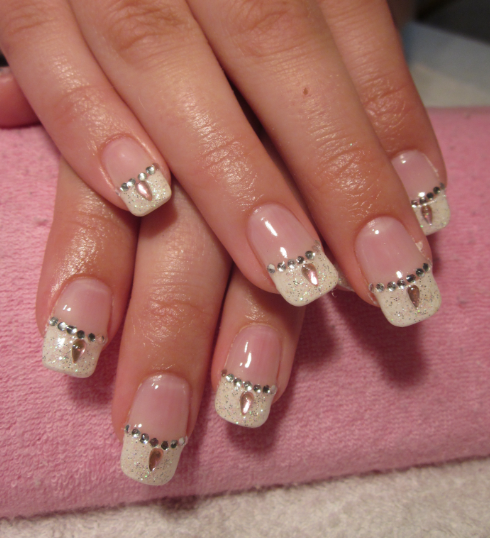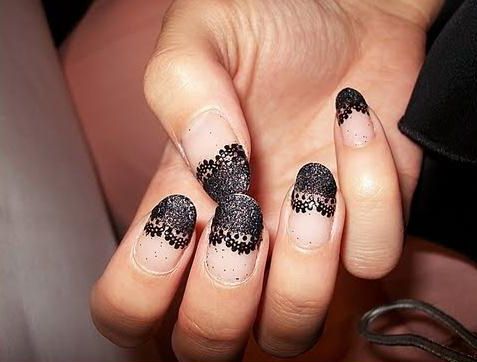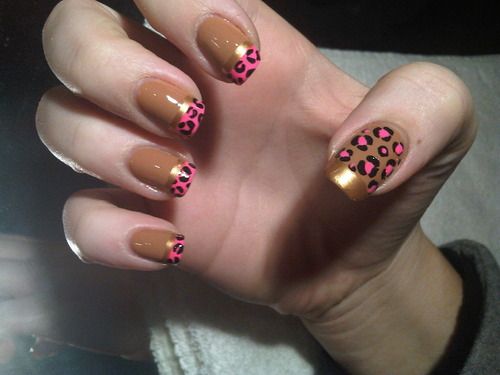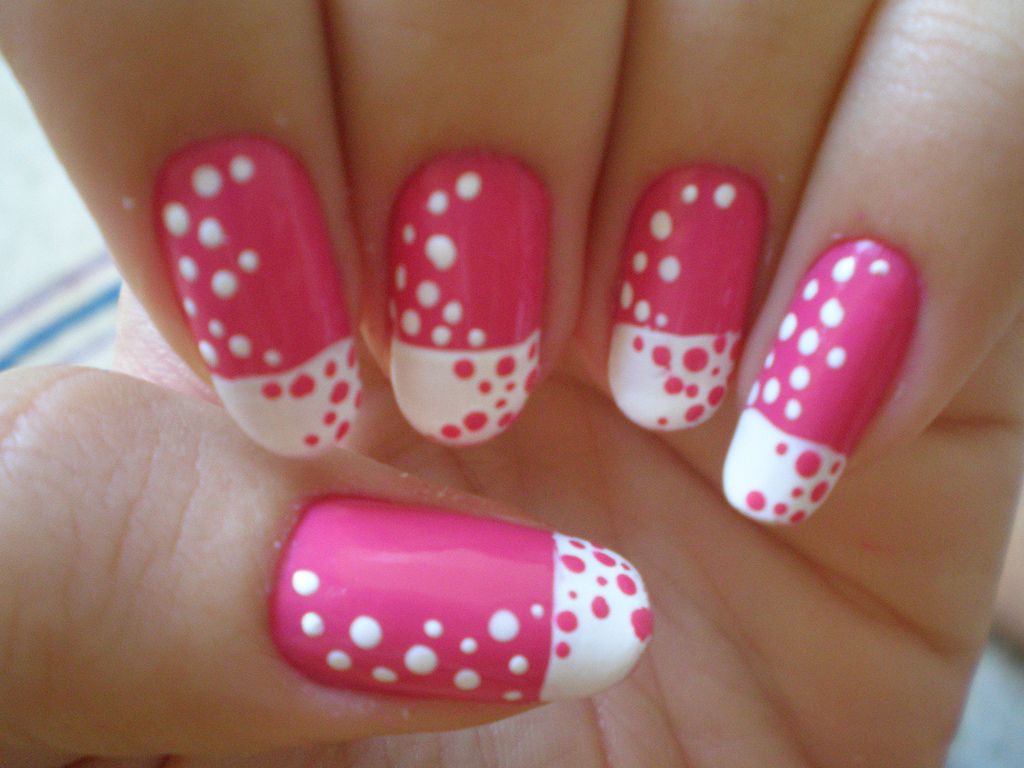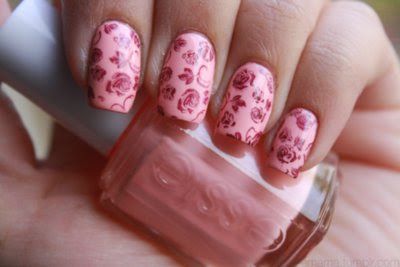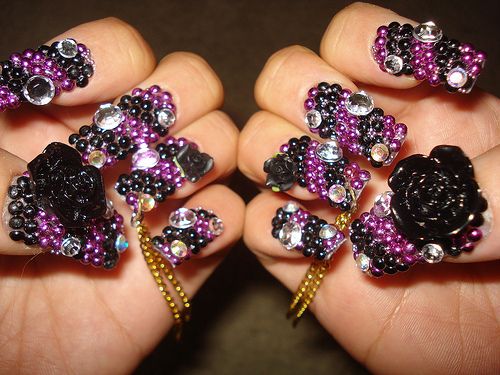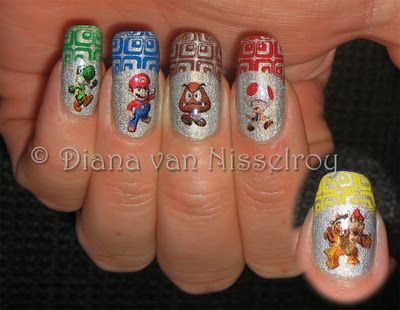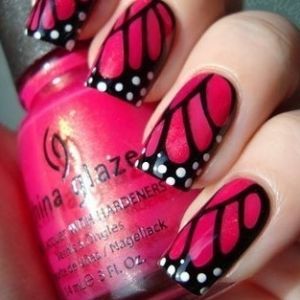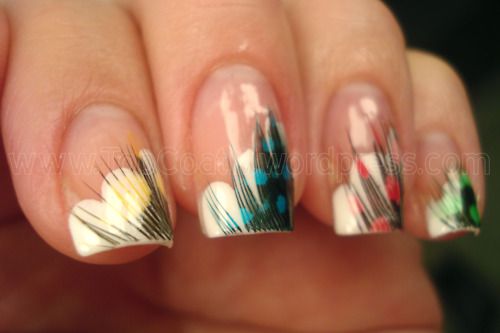 Which one's your favorite?
An unseen (yet my favorite) manicure for this Summer
Yes, I had also a little surprise of my own in store for this post. I was wearing this mani while having a lot of days without proper time for an outfit photo shoot, so I just photographed my nails. I thought I'd just put this on some random outfit post, but I think this is a better place for it. ;)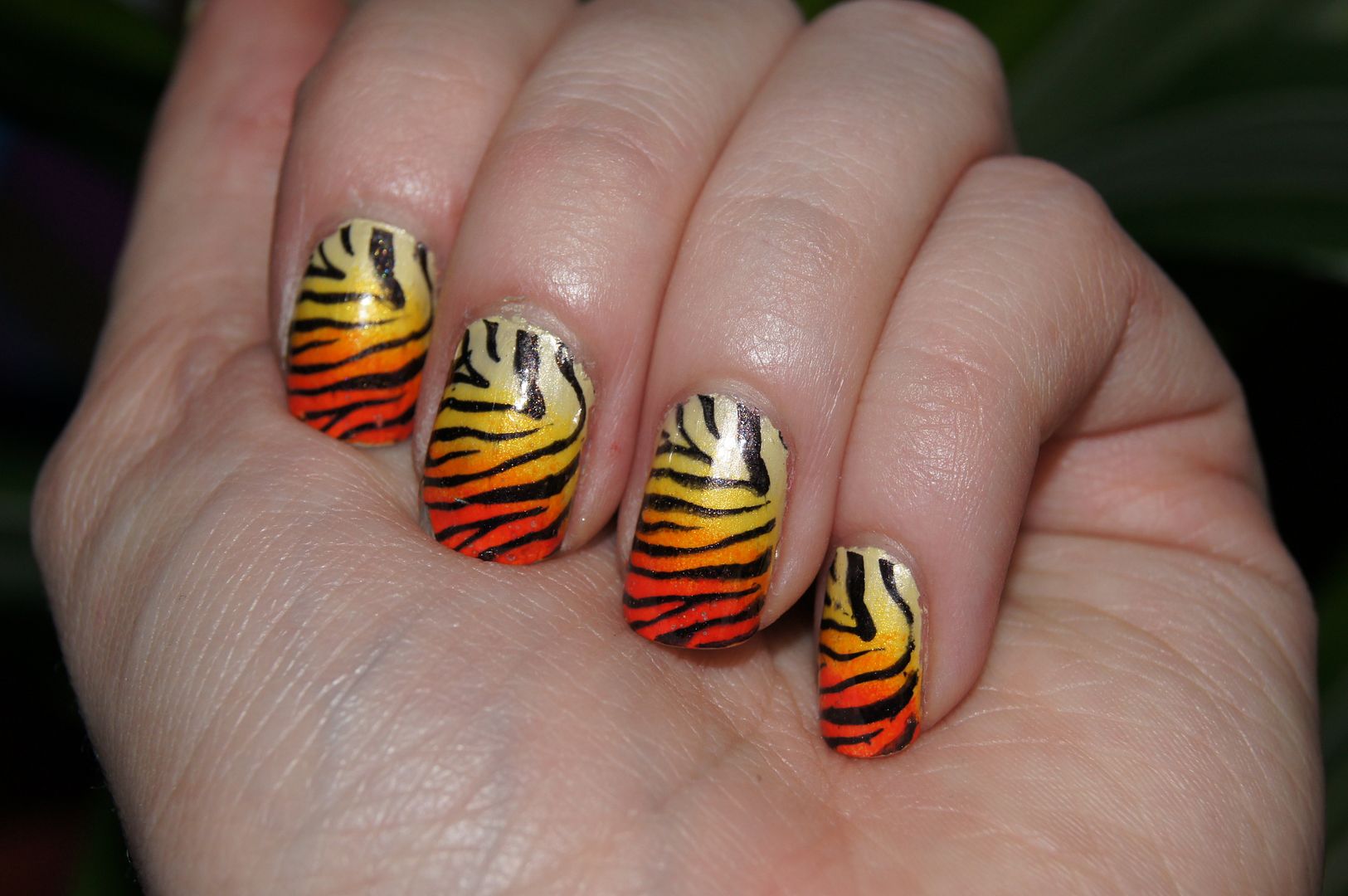 What do you think about this animal print mani?
I challenge all my readers:
31-day nail art challenge. Do one, do them all, and please send the link to the picture(s) to me. I would love to get inspired by all you fabulous people ♥
I'll start this challenge myself as soon as I get off my current manicure, though I won't be doing these exactly every day (not good for the nails, you know). I'll be posting them here in the blog, but also to the Instagram (you can find me under the name @silvertigo - the same as my Twitter).
I hope you've enjoyed this nail post, and please leave your thoughts and nail art links, tips etc. in the comment section below!
Next time I'll be back with an outfit post, so stay tuned for that. ;)
Have a fabulous week, everyone! ♥
xoxo
Johanna