Heya lovelies!
How are you all today? ♥
Last night I was supposed to write this post, but ended up spending more time with my friend L than I had planned. I don't complain, though, it was just the relaxation I needed and it was lovely to get to know what's going on in her life. We we're gossiping for many hours and hence, I'm only writing this for you today. Sorry for the delay, but my real life goes over anything I do online, as everyone of you surely understands.
Today's post is about the time my parents were visiting last month, and we went to eat at Plevna, a brewery restaurant in the heart of Tampere.
The place clearly states - especially with the decoration - that it's the place to enjoy your beer. Look at this giant glass, very cool!
An old sign telling you to not try and steal their glasses as you can easily buy those instead.
Even the door to the ladies' room was pretty personal - as were the insides as well, but I felt it would be way too much information to show that, haha.
Massive collection of beer glasses and such by the door. Very nice ones!
Another cool thing about this place is that the menus are designed to look like newspaper. There's also more info about the place if you are patient enough to read through that. I wasn't, I was hungry.
There's quite a list of beers, and few other brewery products. I love trying out local products every once in a while (I should actually start doing that more often), so this was a great place to go to with my parents.
They may look like beer, but they're actually apple cider. We ordered those with mom - guys went for beers - and they were pretty awesome.
While we waited for food, I photographed a little more.
I loved the design of the bar, to me that looks very inviting. You know, for a bar.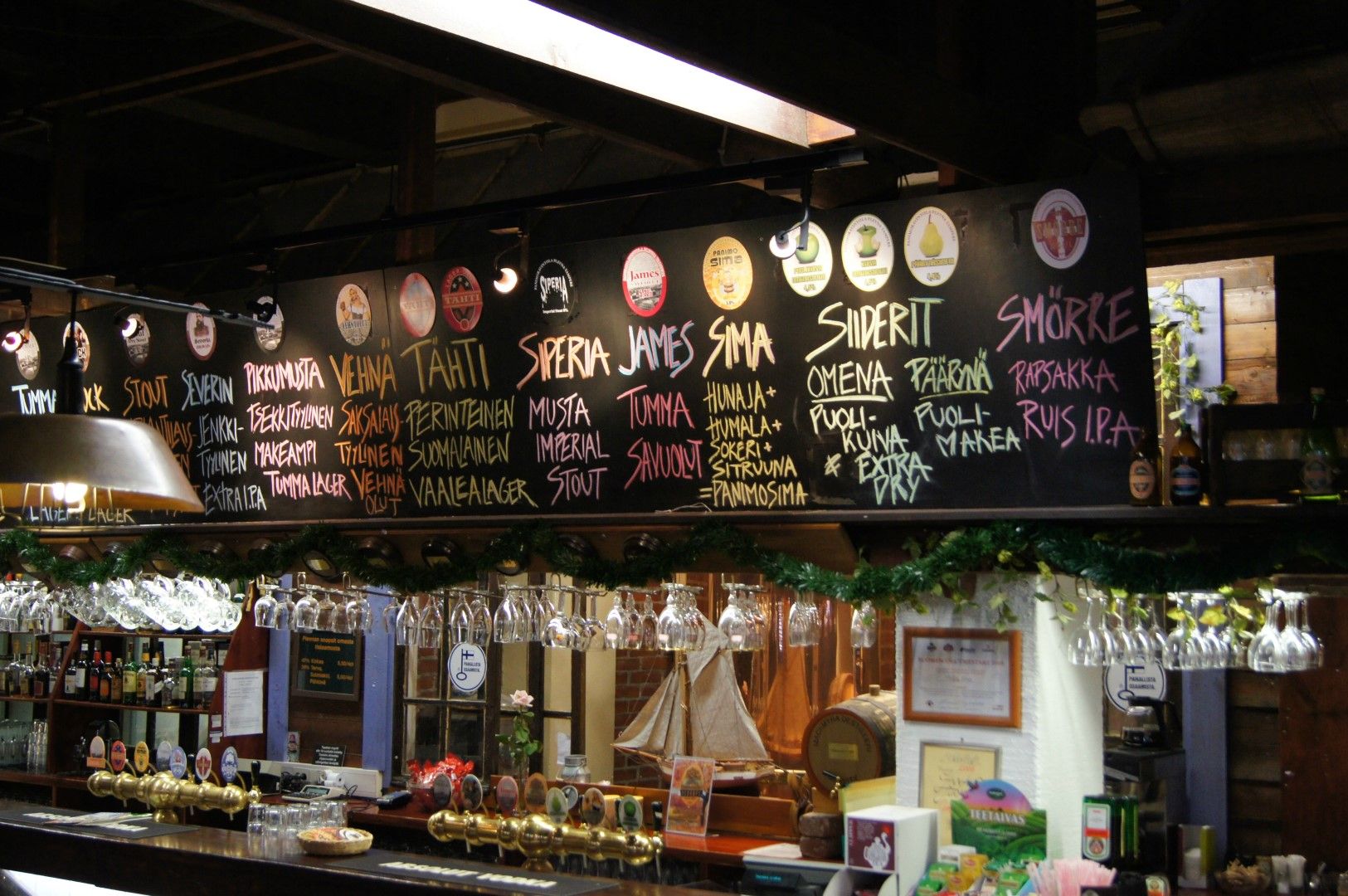 Above the bar, there is a list of the brewery products to help you choose your drink.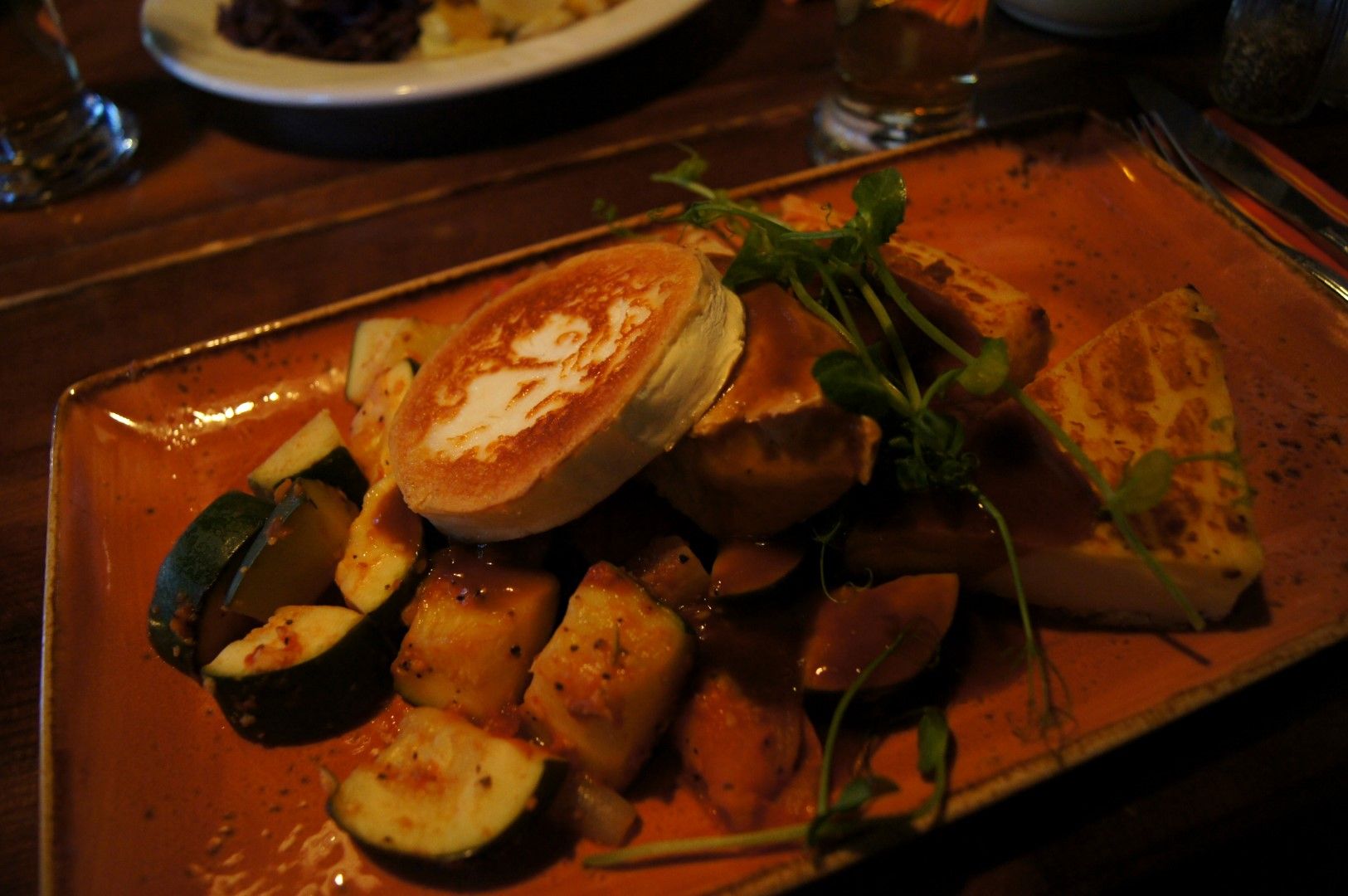 My choice: Chevre Chicken with chevre potato gratin and veggies. Absolutely delicious meal and one of the best potato dishes I've ever tasted.
Mom's meal, lamb sausages with braised red cabbage and creamy garlic potatoes.
My fiance got the big Plevna hash.
And my dad tried out the Plevna sausage pan.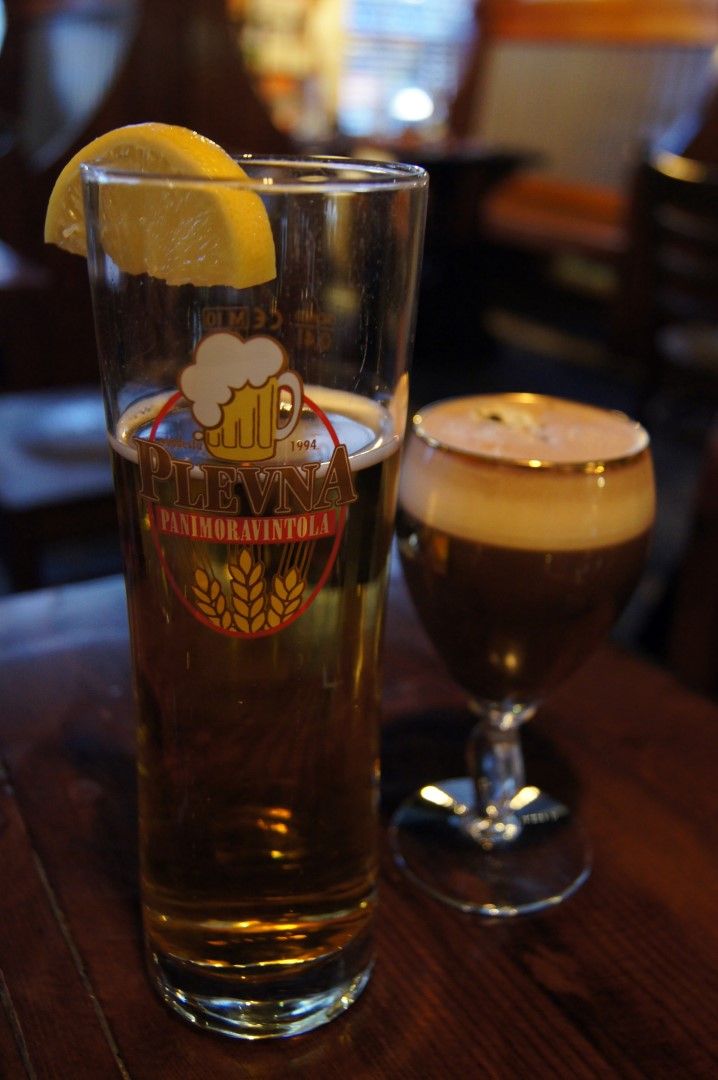 For dessert, men got drinks - my fiance got the brewery mead, and my dad chose hazelnut coffee.
Me and mom, on the other hand, decided to get actually more to eat (like either of us could resist dessert when eating out, lol). I got the Belgian waffles, and I fully recommend this, it was way too good! I mean, it doesn't get much better than fresh waffles with vanilla ice cream and raspberry sauce.
And mom chose the Plevna chocolate cake with raspberry sauce. This, too, tasted amazing.
Now, today, you're all in for a rare treat. My fiance actually wanted to review his meal and beer, and our trip to the restaurant here in my blog for you. Sadly I didn't get him to agree for a photo, but hey, some other day maybe. But here's what he has to say about our dinner at Plevna:
Male Point Of View - Dining at Plevna
Main course: Plevna hash, large
Judgement: The meal was actually big and even a big guy could get his stomach full from it.
In the meal there's huge pile of potatoes, seasoned with mustard sauce.
The food was very good and tasty, but a little minus has to be given for the lack of variety.
Also, there was beetroot on the salad, which doesn't play along too well with the mustard-flavored potatoes.
Drink: Little Black Number, dark beer, 3,8% (Brewery's own product)
Judgement: Very smooth and malty lager. Very ingenious and not at all bitter. Seeks for it's equal.
Overall grade for the food:
★
★
★
★½
Thoughts about the place: The restaurant is pretty "old school" design-wise, with the dark wood benches and all. The service is suitable, professional and the speed of it is average. The price/quality ratio of the food is appropriate.
Grades (amount of stars):

0 = Bankruptcy awaits
1 = Suitable for domestic animals
5 = The King
Note: Do not take the grades too seriously, we're always just having fun with things. So have some humor along when reading stuff either of us writes for you.
So, thanks to my fiance for this little insight, please let me know if you'd like to hear more from him and I'll ask him to do more from time to time.
That's all I have for you today, hope you enjoyed this one! Leave a comment telling me if you'd like to hear more male point of views, and maybe ideas about which topics they should be about.
Now, I'm off to watch the rest off the F1 season final, and then it's time for some serious baking and such. Tomorrow, I will post something new for you ♥
Have a lovely day!
Blog ya later,
xoxo
Johanna