Heya lovelies!
How are you all today? ♥
I'm currently watching Finland play against Russia in the IIHF world championship, and trying to recover from the hectic workday. I'm so overly happy that Thursday will be a day off, because these past two weeks have been pretty overwhelming because of the start of the internship. Most days I have been so tired I don't get much done, but I'm slowly getting to the work rhythm and next week I'll probably be completely back on my feet in that sense.
Today, figured we should talk a bit about nails again, as I had this post ready in my archive waiting to be posted for you all.
So first up is this neon gradient with all sorts of elements to it. I used pretty unusual color combo for me, which is purple, pink and orange. And of course some white as an accent, as you can see.
I tried to play with decoration placement here, and kind of think I did a nice job with it. But of course, you can think differently depending on what you like in nail art.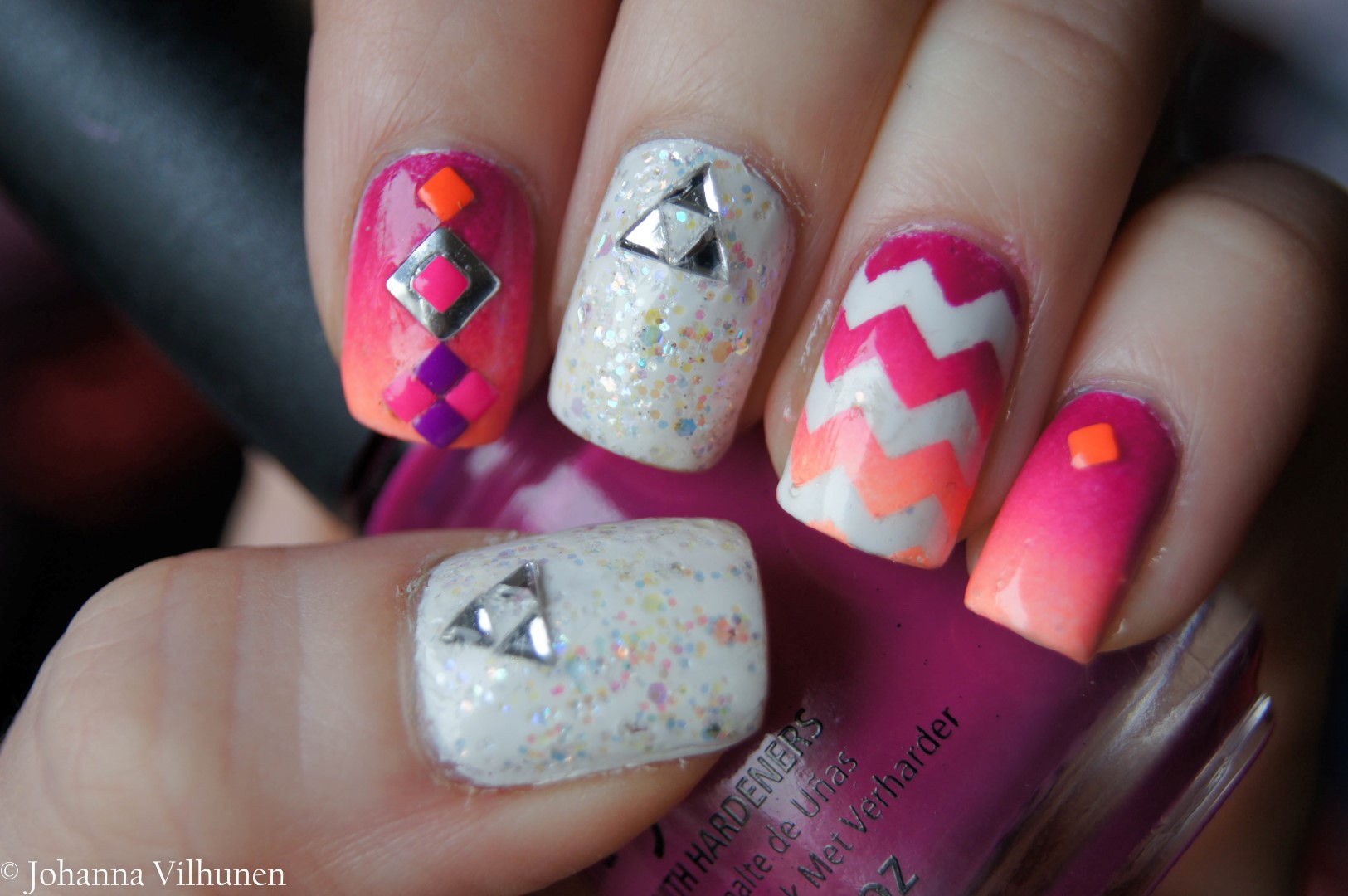 Colors I used here were all by China Glaze. I used White On White, Snow Globe, Sun Of A Peach, X-ta Sea and Seas The Day. The studs and triangle rhinestones are from Born Pretty Store as usual.
The second mani is even more colorful than the first one, and it is my first proper try on splatter nails. I haven't been trying this out before since I knew it's a bit messy one, but this spring I decided I had to try it after seeing many beautiful inspirations for it.
I think this is the type of mani I would do again pretty soon, as it looks very nice when done correctly. Of course I think yet again that my technique requires some practicing, but for a first try, it's pretty cool.
The colors I used were all neons by China Glaze (except for the white of course). I used White On White, I'm With The Lifeguard, Escaping Reality, Splish Splash, Surfin' For Boys and Sun-Kissed. When doing this technique, you basically only need a proper-sized straw, and you're good to go. Just make sure your surface is protected from the polish splatter, as it gets absolutely everywhere.
So there you have it, two very colorful manis (that are really appropriate for the sunny summer days ahead), which are different from each other in many ways. I personally loved both a lot, but I would love to hear your opinions as usual.
So the question is: Which one do you like better? Let me know in the comments!
Now, I will continue watching the game, and will soon go to bed so that I will be energetic enough for tomorrow. I will once again have a lot to learn so I need all my mental strength to keep up. Or something like that. But I'll be back very soon, since I have scheduled posts ready for the coming days. (I knew I'd need them to keep up with everything!)
Have a fabulous day ♥