New season, new capsule wardrobe. On autumn time I gravitate towards more muted tones and darker shades, as well as comfy, layerable items so that my style would be easy to mix and match when the weather gets random (sometimes warm, sometimes cold, sometimes wet etc.).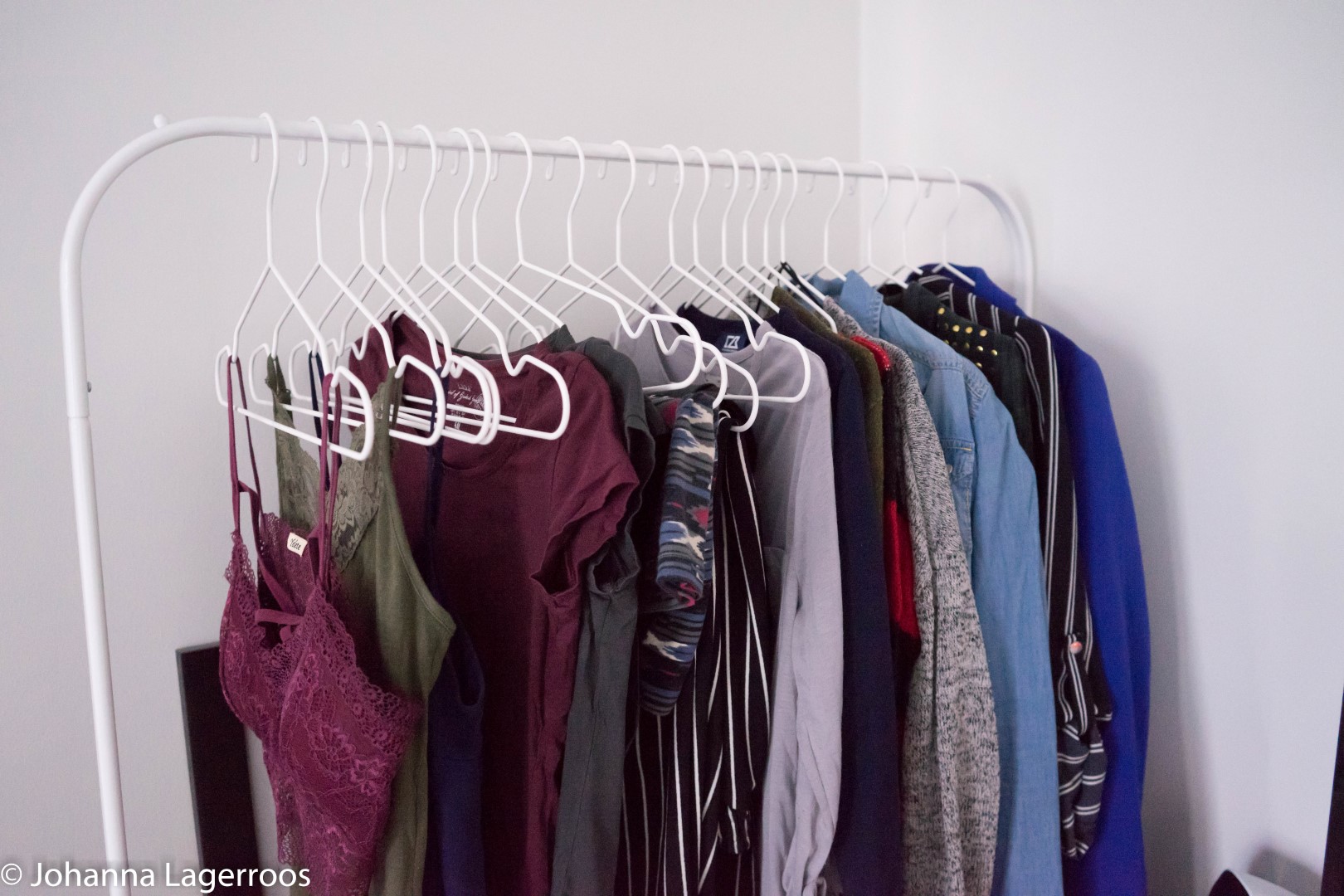 These capsule wardrobes have been quite helpful for me, as I get more and more defined vision of what I want from my style, and how to create it in the way that is fun yet professional, has some metal edge but can be toned down if the situation requires it. In case you didn't know, my full time job is at sort of traditional office environment, and while we don't necessarily have a dress code, I like to have a bit more classic (and classy) looks at work than I would on my free time. I also see which items I don't reach for and can donate/sell them to other people to wear and enjoy.
Below, I'm sharing a list of items I chose into my autumn closet and as a base to my autumn outfits. Again, I will use other items too, but I try to more or less use at least one of these every day in my looks. These items are not in any particular order but I could consider arranging them by type or something next time if that makes it easier for you to follow.
This time, however, I marked which ones are secondhand and which ones are otherwise at least a year "old", so you get an idea how little or lot I have new things in my closet. I think I may start doing this every time so that it would encourage me to buy less as I want to have more sustainable wardrobe which means having minimal amount or none of the new stuff, buying very little or none from fast fashion companies, and favoring secondhand stores and smaller boutiques when craving for new clothes. Also, I would love to learn to upcycle my clothes more! In case you'd be into seeing posts about that, let me know so I can start going through the closet and see what could be DIYed into something better.
Grey Tee (old)

Burgundy Crop Top

Denim Shirt (secondhand)

Striped Blazer

Burgundy Tee (old)

Coke Tee (secondhand)

Navy Top (secondhand)

White Top (secondhand)

Black Skater Dress (old)

Aztec Skirt (old)

Black and White Skirt (secondhand)

Grey Cardigan (old)

Leather Pants (secondhand)

Blue Blazer (secondhand)

Leather Shorts (secondhand)

Striped Pants

Burgundy Pants

Plaid Shirt (secondhand)

Plaid Pants

Olive Knit (secondhand)

Grey Jeans (old)

Suspender Skirt (old)

Light Grey Shirt (old)

Navy Knit

Green Top

Black and Red Knit (old)

Sporty Chic Dress (old)

Riding Boots (old)

Black Loafers

Dr. Martens

Knee High Boots (old)

Spiked Flats (old)

Brown Boots (old)

Mid-High Heeled Booties (old)

Navy sneakers (old)

What do you think of my Autumn picks? And, what items are staples in you Autumn/Fall closet? Let me know in the comments!


That's all I have for you today, I was actually supposed to post this on Sunday but I got all caught up with Blogoween preparations. But on the other hand I rather put my time in that and postpone some content this month with a day or few because next month will be packed with (hopefully) fun content. This week I'll give you one or two more posts depending a little on my schedule. I'm also planning on putting a bit more work into my Instagram, so I hope you'll see at least a bit of difference there in coming weeks! (Follow me @silvertigo for daily outfits and other fun stuff.) I'll see you here on the blog with another post really soon!
Have a wonderful day ♥