Hiya guys!
How are you all today? ♥
I've been spending time with my family these couple of days and since I really don't want to miss a thing by sitting on a laptop, I wrote this post for you last weekend so that there wouldn't be a total silence.
As you know, I'm pretty much of a polishaholic - hence new nail art weekly on the blog - and the month long shopping ban has really got me into looking carefully what is out there and what isn't. I don't know how much you all know about how the industry works, but the thing you should know is that they work much like in fashion. There are trends, colorwise, texturewise, and so on.
This means that there's different things popular every season. One thing that doesn't seem to change, though, are the holiday trends, whether it's a Halloween or Christmas, the polish collections don't see that much change even if the years go by. I really wanted to go into depths of the new Christmas collections with you today, but to be honest, I wasn't all that hyped about them. Of course, every collection has their jewels and it's all about what you like in polishes, but to me there were only so many nice ones.
Don't get me wrong, I love Christmas and all, but the bright red polishes with red glitter, accompanied with gold and silver polishes just don't do it for me. Of course they are great, great colors for Christmas, and perfect when you want something simple, but the artist in me kind of craves something more. I still don't think the collections are entirely bad, they're just not for me.
However, I spotted some things that were more interesting to me. All these are available already, and might not all be that new, but I haven't seen them on my favorite polish sellers before.
Note: None of the pictures below are my property, I'm just humbly borrowing them with the help of Google.
First, China Glaze sets for creating somewhat easy manicures. All these include 2-4 polishes, "tools" like sponges and guide tips, depending on the set, and step-by-step instructions. If you are a beginner with nail art, I would recommend this as CG is a quality brand, but not nearly the most expensive. Also, if these are anything like the ombre kit (I talk about them a little
in this post
, after purchasing one), I would try them out.
There are sets for a dotted manicure, simple galaxy manicure, sort of French mani with a twist (or a V, more accurately), and for half moon mani. Some of these come in different colors, or at least, the double digits one does.
Why would I buy these:
Nice colors and great quality for reasonable price. Ready picked colors that are quite easy to wear, so no pressure on trying to choose the color. Especially great if you don't already own that many polishes as the colors in these are chosen from previous collections. Very awesome choice for beginners.
Why I wouldn't buy these:
As mentioned, these have polishes from previous collections. Even though I never buy a whole collection, and am quite picky with what polishes I buy (believe it or not), I seem to have awful lot of too similar shades to these. Also, as I am into nail art, I already have the needed tools for these manicures at home, so really no point on buying them for that. I also use the internet so much that it's the same just google the instructions.
So, for me, these aren't the best buy, but I kinda wish they'd have these when I started getting into nail art.
Next up, Ciaté Caviar Manicure Luxe Sets. You know I have hyped about the caviars - especially Ciaté ones - before, but every time they get out something new, I'm pretty interested. Unlike the previous caviar sets, that very fun, delicious and colorful, these ones are quite sophisticated with stunning metal shades of silver, bronze and gold. I could definitely see these as a big hit over holidays, because they are such a perfect way to finish off a look.
These sets come (as usual) with caviar pearls, matching nail polish and a little funnel to help to get the excess pearl neatly back into their bottle.
Why would I buy these:
The shades look absolutely stunning and Ciaté does quality stuff. Especially great if you have many parties to go to this holiday season and if you, like me, love the caviar texture. The shades are easier to wear than the multicolored ones. These also come with instructions, so it doesn't matter if the technique is new to you.
Why I wouldn't buy these:
They really don't bring anything new, except for the color. To me, £20 for three items (one polish, beads, funnel) seems a bit much, given that I already have a funnel by Ciaté, and pretty similar metallic shades, so all I would need would be the beads.
Again, not something I will buy, if I think it reasonably, but if money grew on trees and so on, I would definitely get these.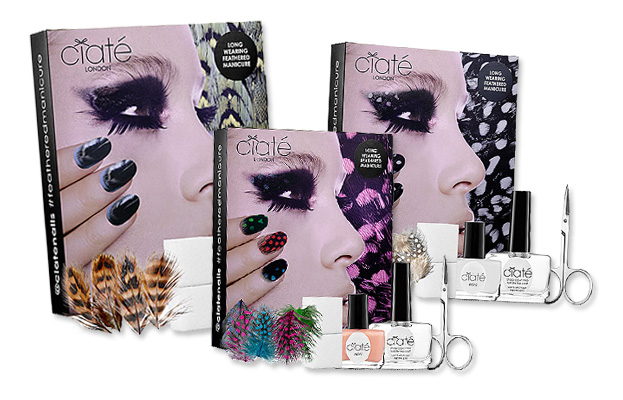 Last, but definitely not least, Ciaté Feathered Manicure Sets. These great sets come in three different shades and to me, these look very, very promising. The feather manicure itself isn't that new thing in the nail art world, but I haven't seen sets like these from any other company.
Inside the package, you'll find everything you need for a neat feather mani, including little scissors and apparently a top coat.
The results with the colorful feathers are something like this. Very cool, very interesting, and seems like a pretty easy way of creating a unique manicure. I could see myself wearing feathers at least for accent nails, maybe even the whole hand for a special occasion.
Why would I buy these:
Because they are just so darn cool. Feathers are one of my favorite patterns/shapes/whatever when it comes to nail art (after leopard print, of course) and I should really learn how to do that. With a set like that, it would be easy, and the feathers seem well chosen, all I've seen have been pretty. And again, with Ciaté comes quality.
Why I wouldn't buy these:
Again, this comes down to the fact I have so many things already. To avoid having too much of everything, I would just go to craft store and only buy the feathers. Saves a lot of money, too.
All in all, thumbs up for this one too, but if you have a top coat, neutral polish and scissors, you're good to go with just the feathers. But I love the fact that you can get this as a set, too. Great for example if you want to do your nails for a special occasion for a few times (depending of course to use of feathers and how much there's actually in there).
That's it for this time, let me know what you think about these sets! And, if you have a set you'd like to recommend - or maybe a one that you'd like me to review, tell me so on the comments. ♥
I'm off now, continuing to have a great time with my loved ones.
Have a fabulous day!
Blog ya later,
xoxo
Johanna