Hey lovelies!
How are you? ♥
It's the last day of 2012, and I thought the best way to celebrate it here in the blog is to share our Christmas with you by a sorta big photo blast. ;) Ready for it?
We started our weekend with a trip to a restaurant (and a little shopping). My dad and my fiance were keen to go to this viking-themed restaurant called Harald. My dad was the only one of us who had ever been there, so it was pretty exciting.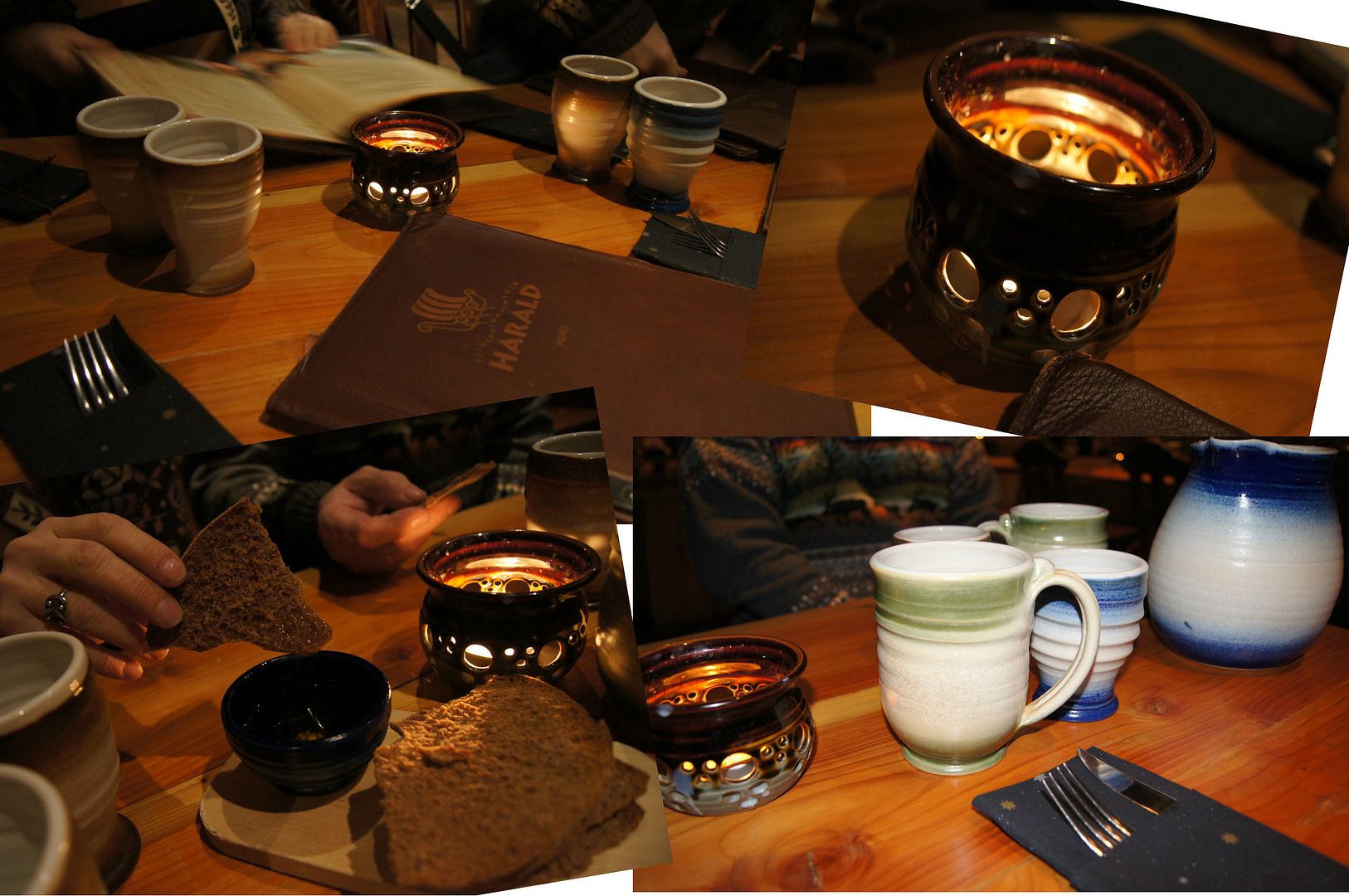 I'm finally getting more brave with my camera as we go everywhere, so it means more and more photos for you to see. ;) I loved the restaurant a lot, the medieval Nordic feeling there was amazing, and created a perfect setting for a family meal.
I loved the little viking helmets that were scattered around the restaurant. Apparently you could place them on your head while eating so you can pretend to be a viking, but none of us was willing to try that out. :D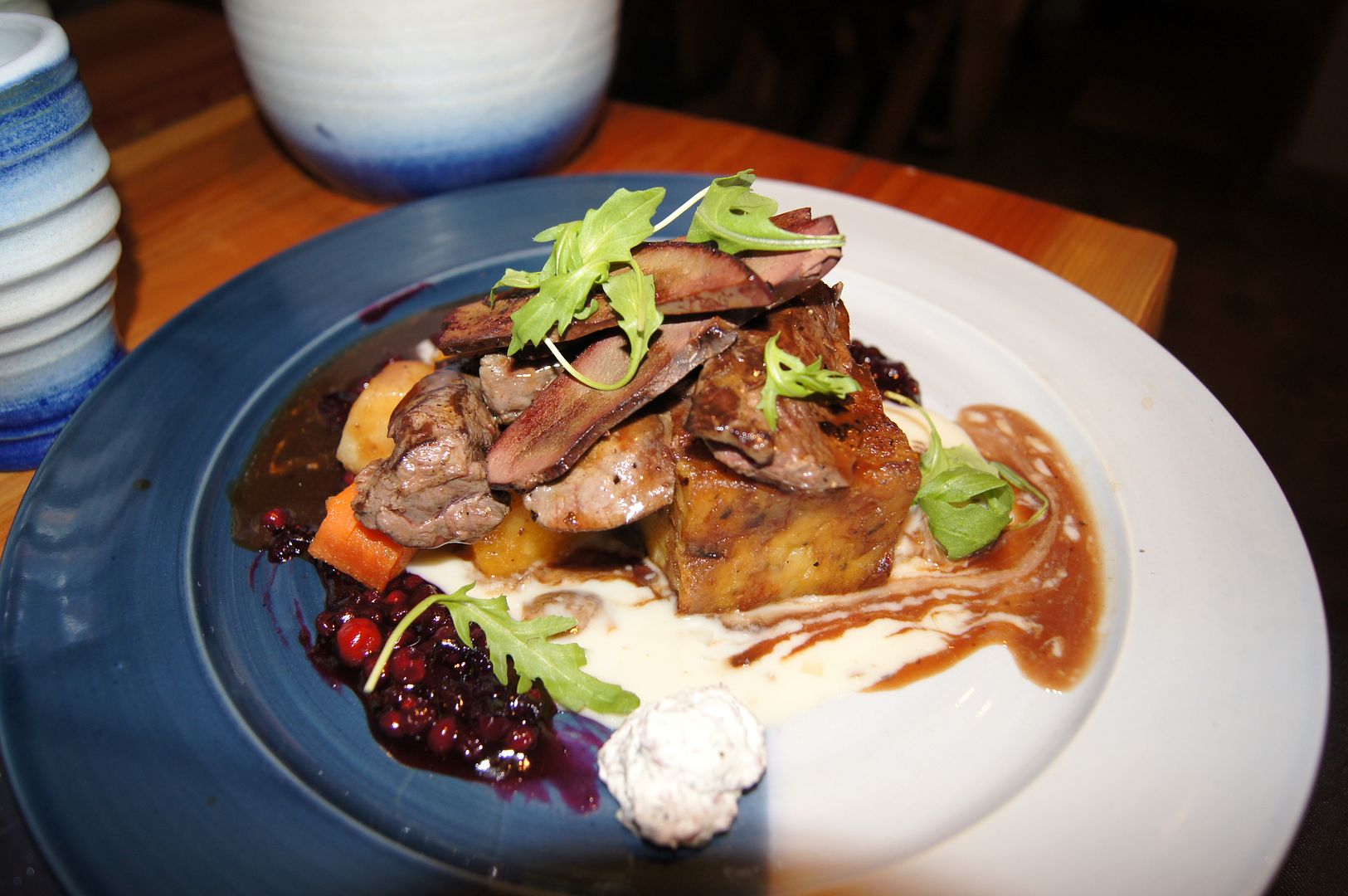 And then the food... It was beyond amazing! I ordered reindeer meat with vegetables, mushroom sauce and potato pancake, and I gotta say it simply melted in my mouth. I get seriously hungry just looking at this photo, because I taste this meal in my mouth every time I see it.
My dad wanted to be different from the rest of us, and chose to have lamb with amazing additions. I got to taste a piece of this, too, and it was fabulous! (I may not look like it, but I'm a
huge
fan of meat in nearly any form.)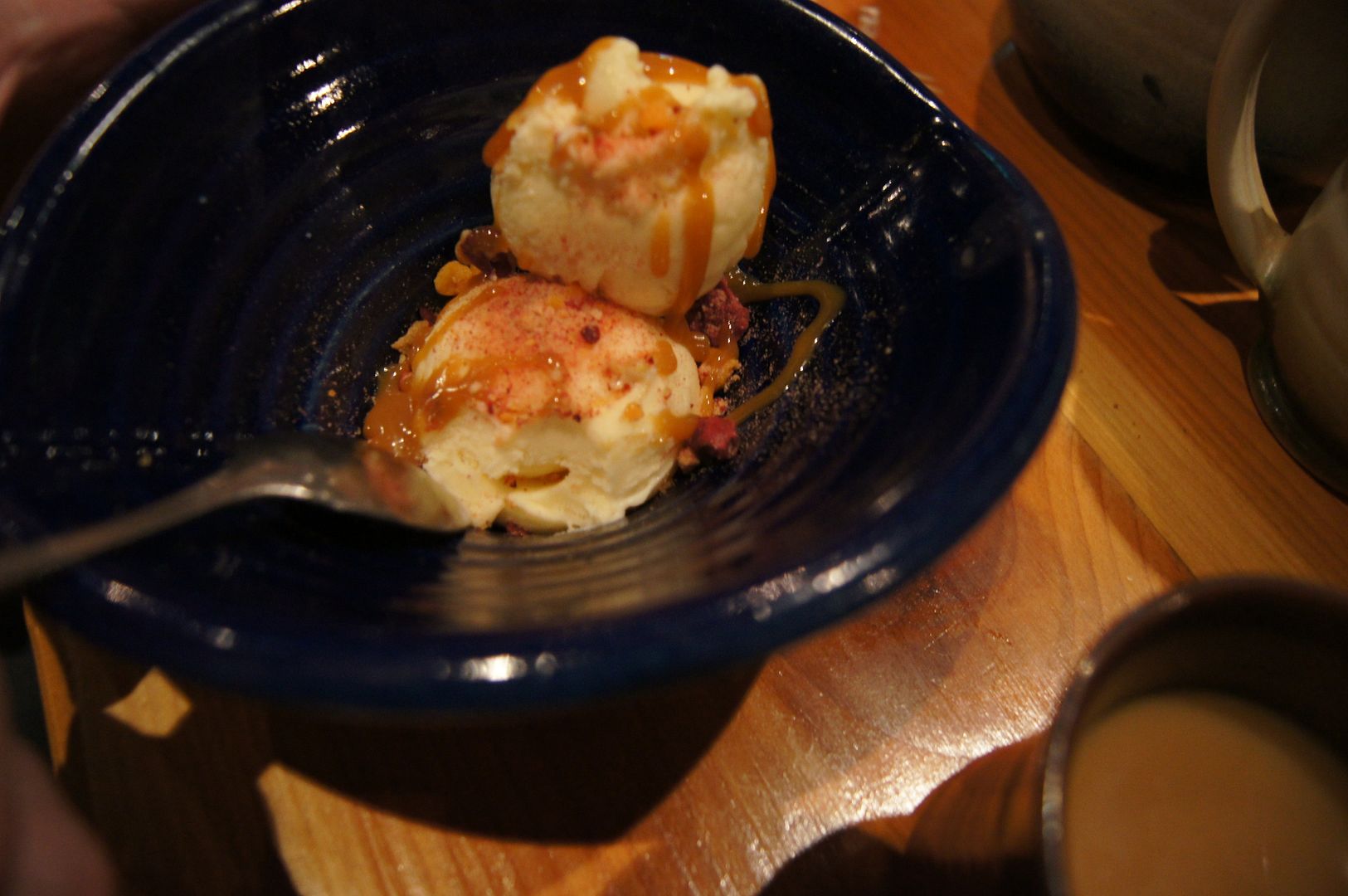 Also the desserts were amazing, there were all sorts of unique flavors from different Nordic berries, licorice, and even tar. My dad ordered tar ice cream, and I was very skeptical about it, but I gotta say it was surprisingly good!
Me and mom both ordered this sweet plate with berries. I loved it!
My fiance's dessert - it's sometimes so hard to get a picture before he digs in. :D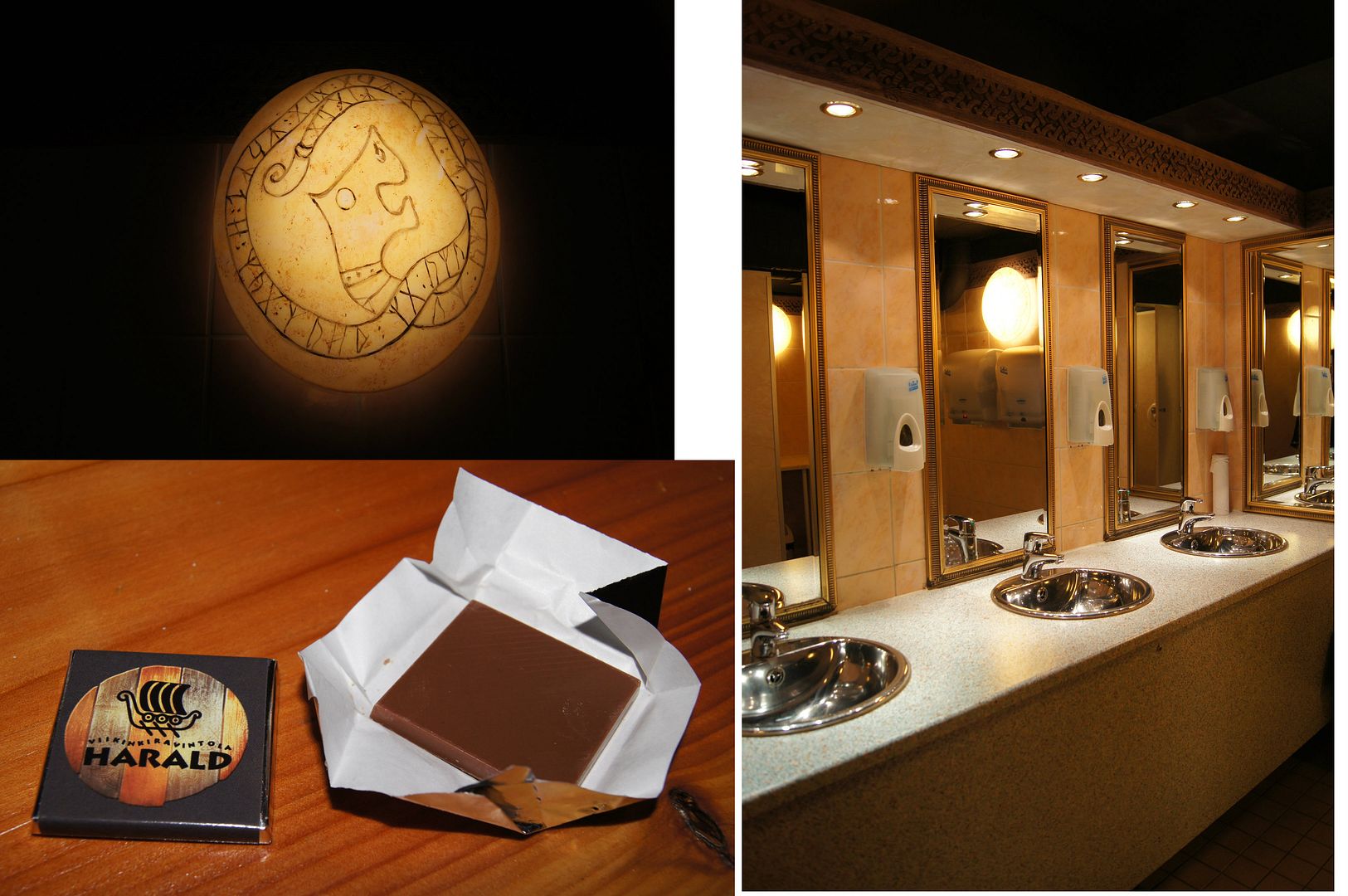 And then some random shots from the restaurant. I loved the ladies room, so I had to take a photo of it as well. It's silly, I know.
Later that night we enjoyed some cake-tasting, as we had picked up more than enough cake from my favorite coffee shop.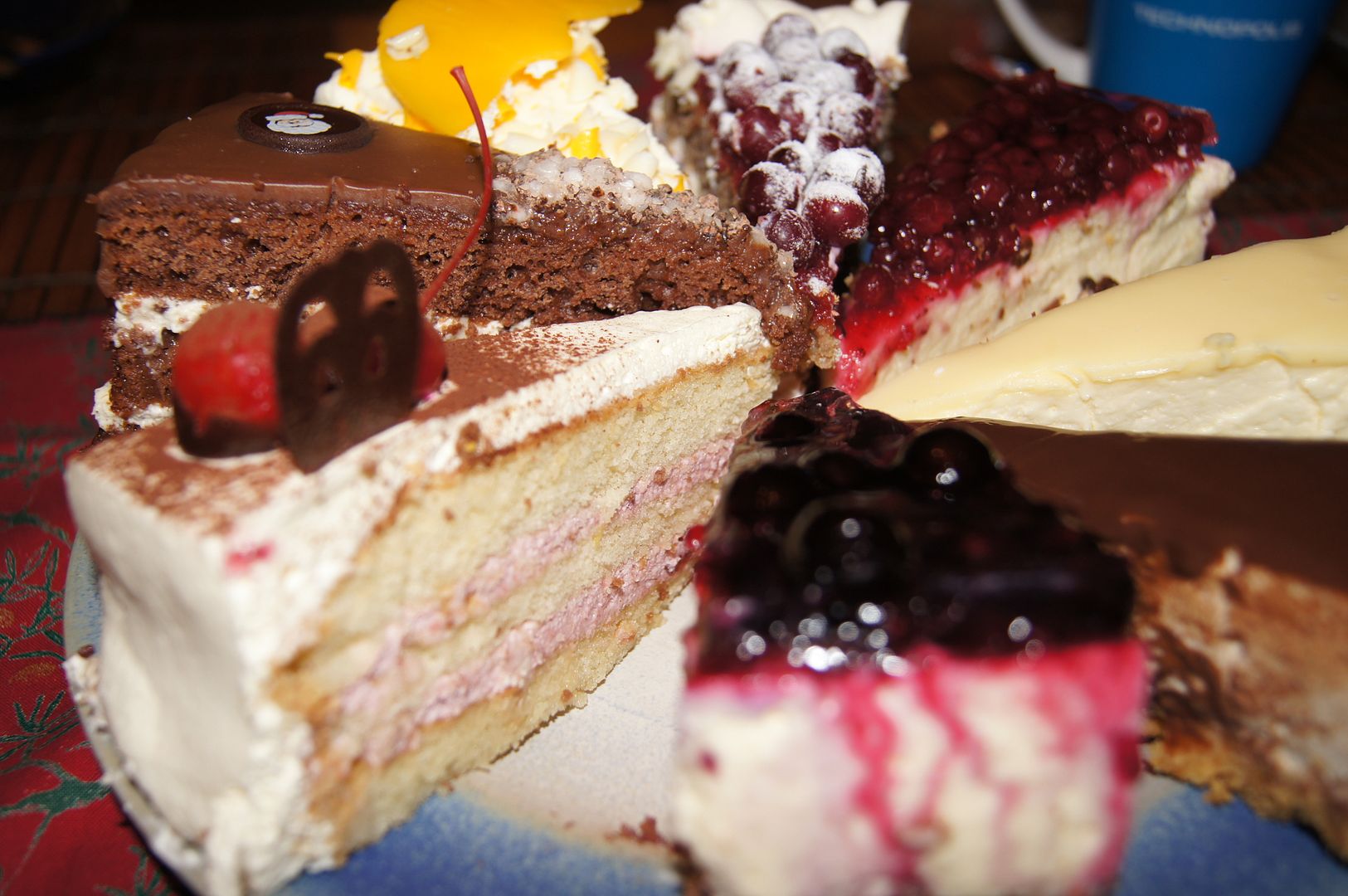 I would definitely do that again any time! I love cake. Thank God my stomach only stands very little sweet things at a time, so I couldn't gain with cake even if I tried to. :D
The next day we headed to the bowling alley. I'm personally a terrible bowler, and I'm constantly afraid of breaking a nail, but still I always enjoy playing. And hey, someone will always take the last place, so I'm happy to do that to make others feel better.
The proof that occasionally even I can play well. I'm leading that round, though I have no idea how I did that. Lol.
Happy bowler with a pink ball to match the hat.
A closest thing to a family portrait ♥
After bowling, it was time to eat again. I was seriously stunned to notice back home that I hadn't gained a pound during Christmas, I mean, I certainly ate enough to get many pounds extra. :D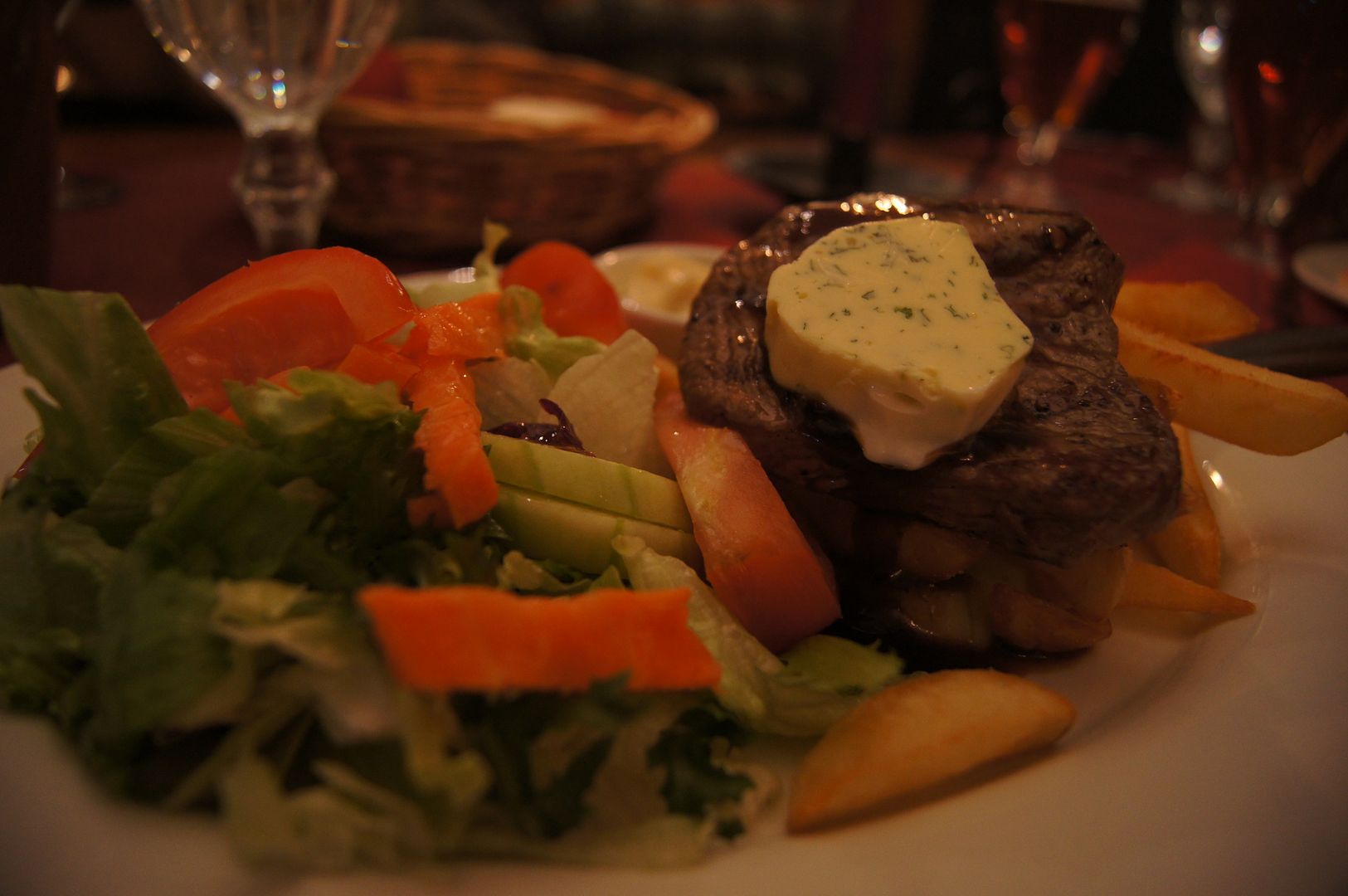 Grilled steak with fries and green veggies. Absolutely fabulous.
Pork with mushroom and potato.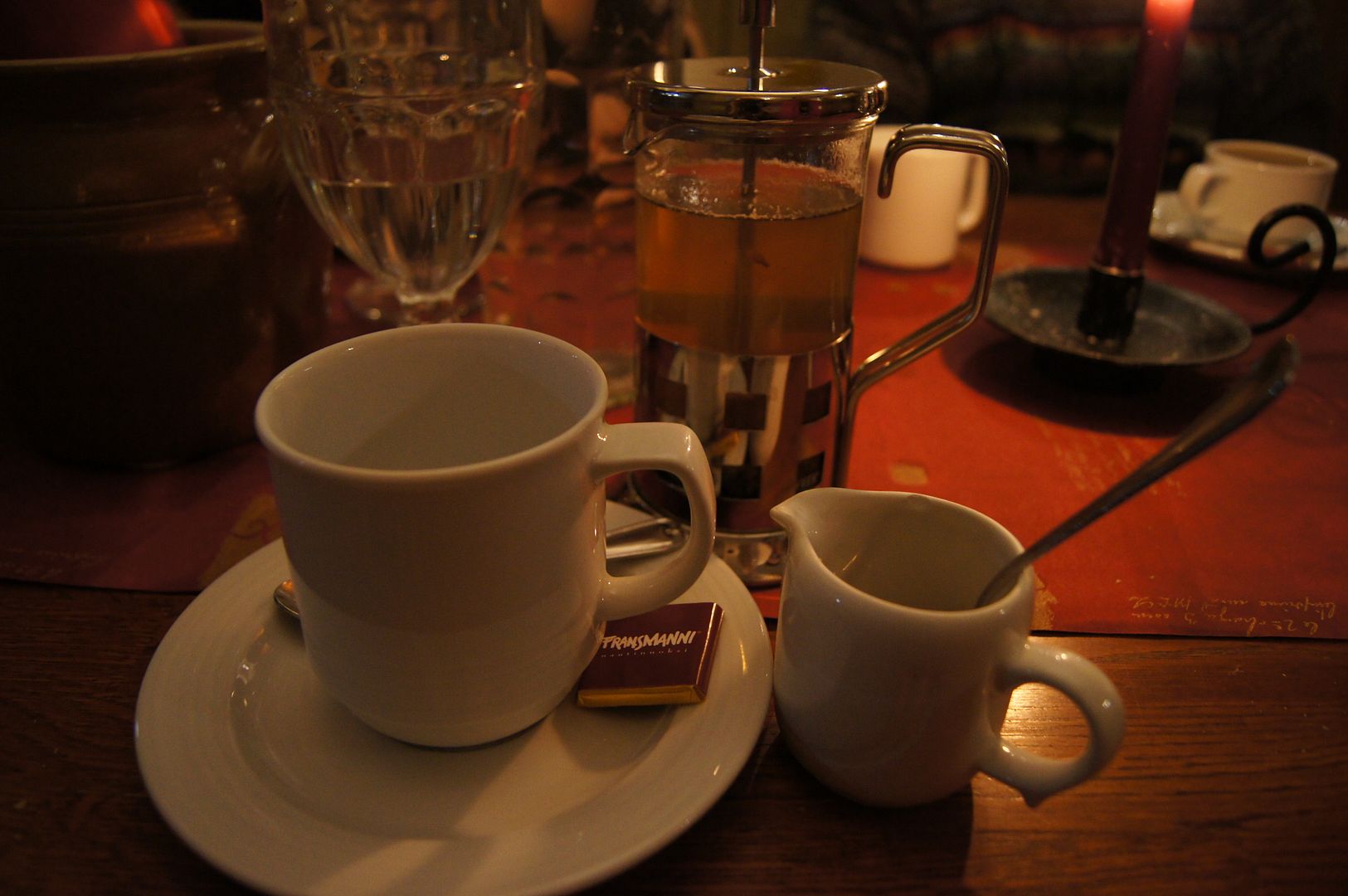 One of my favo
rite desserts ever. Crème

brûlée. ♥
We also spent a lot of time playing - and enjoying some wine. One of the things I love about visiting my parents: The amazing wines they have. I will probably be a wine enthusiast once I have the money to buy the good stuff. ;D
Can you guess what comes next?
Oh yes,
more food
!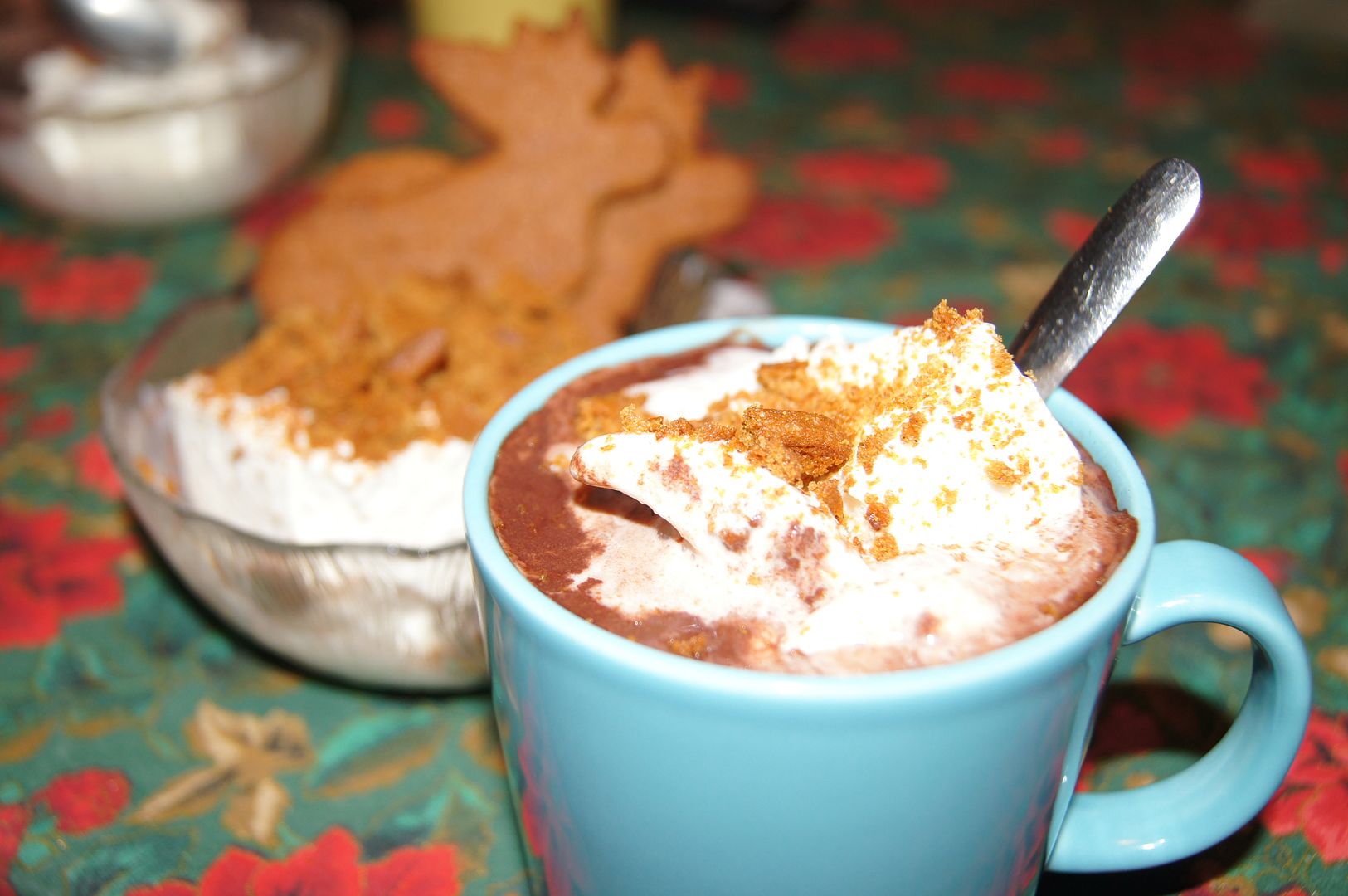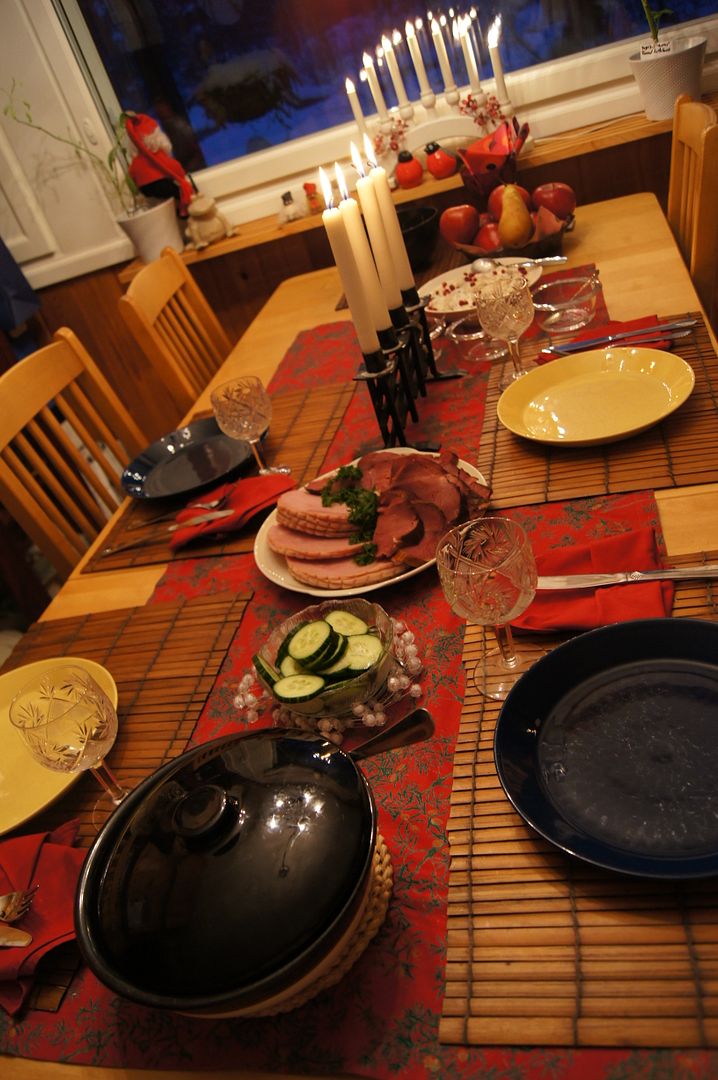 This year my mom had decided we wouldn't have a big traditional Christmas table simply because it's so much pointless trouble since there's only four of us and none of us are that big on Finnish Christmas food. So happily we put up this more simple - yet delicious - meal on Christmas day.
And this amazing dessert my mom made! The recipe can be found (though only in Finnish)
here in Anniina's fabulous blog ♥
Me and mom set up beautiful lights on the yard. I love being out when there's snow, even when it's pretty cold, because everything is so beautiful with the snow all around.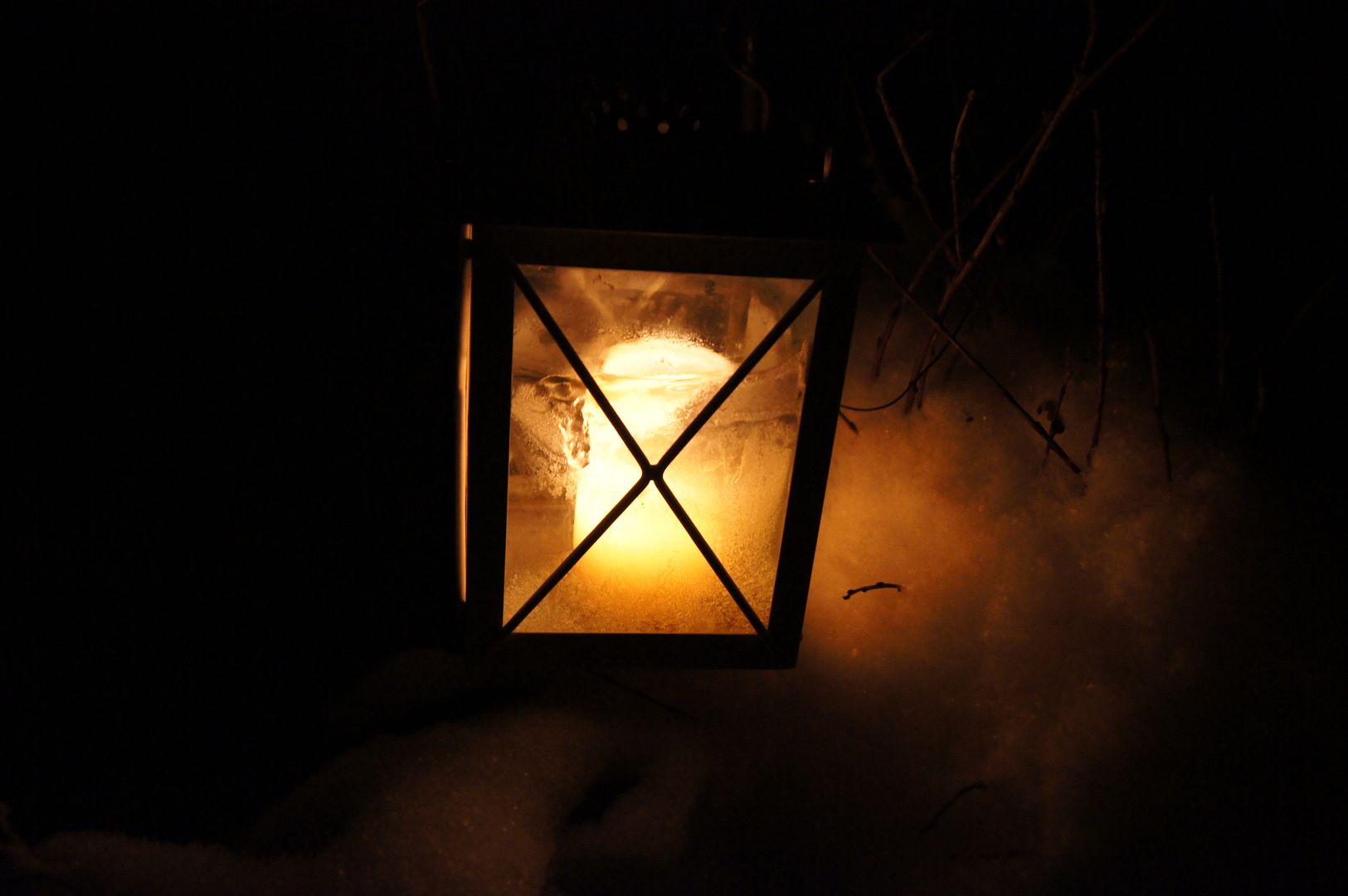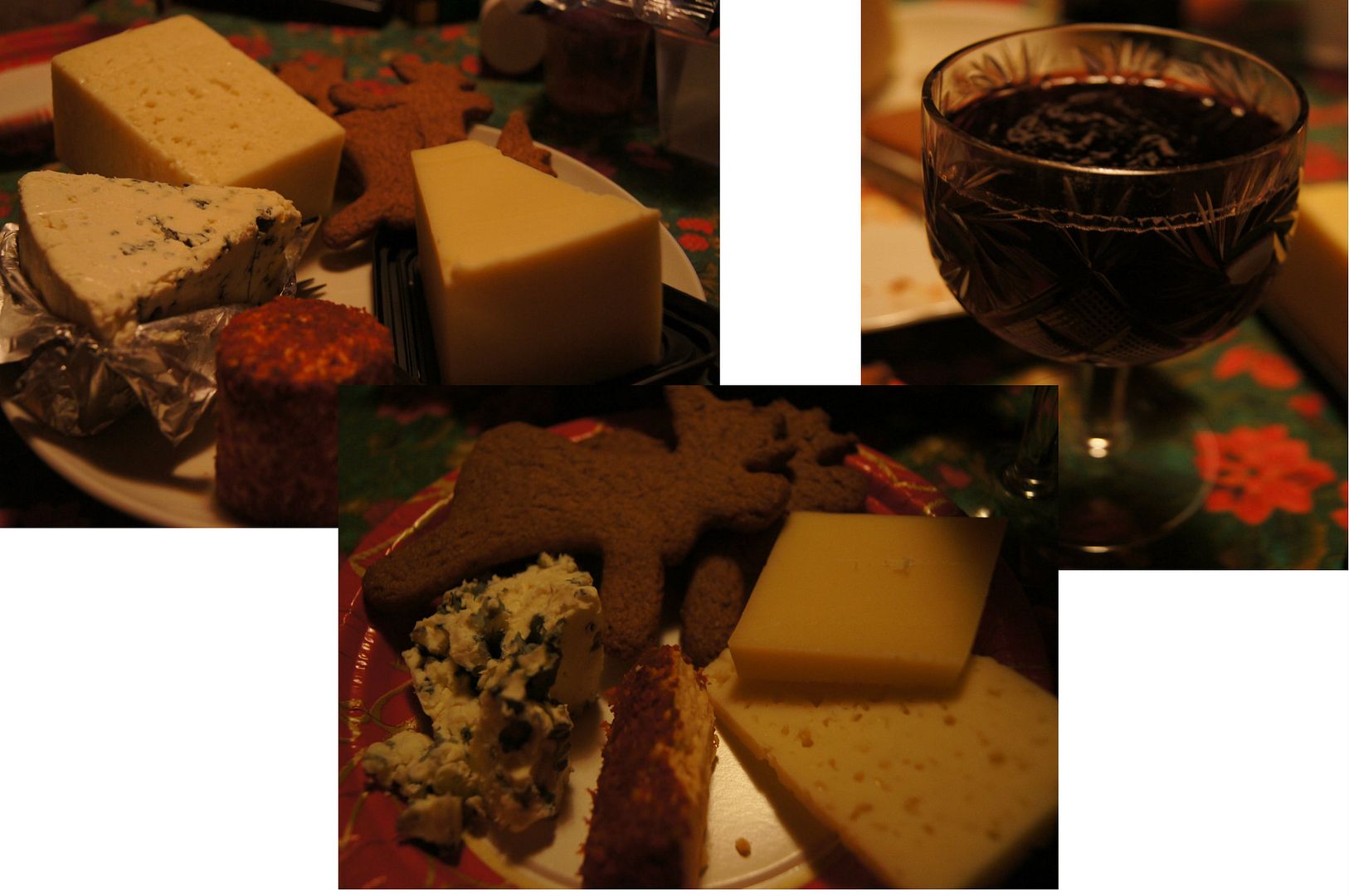 And so that you wouldn't forget - we ate a lot. I had ridiculously many photos of food when I transferred them from camera to my laptop. :D
All in all, we had a great Christmas. There was not much gift exchanging, as my parents are helping us out with our move, and we just had one gift for them, but I think Christmas is more about celebrating the amazing families we have - or friends and other loved ones, for that matter. The long weekend away from the big city was exactly what I needed, and I feel more energetic than before Christmas.
Now I'm prepping for the NYE with my two favorite boys, and I hope I get some material worth posting from the evening. ;)
What are your plans for NYE? What are you wearing for the event? Share your thoughts! ♥
Lots of love, and Happy New Year!
Blog ya later,
xoxo
Johanna